Posted on
Sun, Sep 1, 2013 : 5:56 a.m.
Ann Arbor Civic Theatre goes big with 'Les Miserables'
By Jenn McKee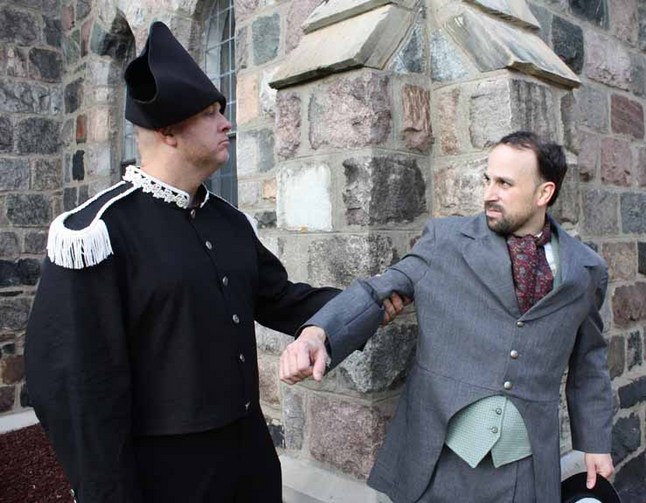 Photo by Mark Stein
The timing of last year's Oscar-nominated film adaptation of the beloved musical "Les Miserables" - now being staged by
Ann Arbor Civic Theater
- coincided with the release (finally!) of the show's rights, so that companies across the country could present their own productions.
Coincidence? Not hardly.
"For a certain generation that grew up singing these songs, this show defined musicals in the 80s," said director Rachel Francisco. " … There's this whole group of 40 year olds on up who've known the show for 30 years but have never been able to do it."
So more than 100 people, young and old, came out for A2CT's auditions, and about half were cast.
"I did choose to go big," said Francisco. "Obviously, you can do it with a much smaller cast than I have, but I felt like the show needed volume. So it's logistically challenging - a matter of strategically using what we have."
PREVIEW
"Les Miserables"
Who: Ann Arbor Civic Theatre.
What: Based on Victor Hugo's epic novel, "Les Miserables" follows the 19th century life of Jean Valjean, who breaks parole and tries to re-build a life from scratch after serving 19 years in prison for stealing bread. Always on his trail, though, is dogged police inspector Javert.
Where: Lydia Mendelssohn Theatre, 911 N. University in Ann Arbor.
When: 8 p.m. Thursday-Friday; 2 and 8 p.m. on Saturday; and 2 p.m. Sunday, September 5-8.
How much: $19 on Thursday ($13 for students), or $25 for all other performances ($22 for seniors, $13 for students). Call 734-971-2228 or visit www.a2ct.org.
With music by
Claude-Michel Schonberg
, original French lyrics by
Alain Boublil
and
Jean-Marc Natel
, and an English-language libretto by
Herbert Kretzmer
, "Les Mis" began life as a 1980 concept album. (A full production didn't appear on Broadway until 1987.)
Set in the 19th century, "Les Mis" chronicles the life of Jean Valjean, a man who's served 19 years in prison for stealing bread for his starving relations. After he's freed, he breaks parole in an attempt to build a new life for himself, but police inspector Javert stays relentlessly on his trail, determined to catch him.
"On the surface, it seems like a simple show, but it's challenging, in that it's an 800-page book that's crammed into a 3-hour show," said Francisco. "The book is huge, so a lot of the characters (in the musical) are written kind of flat. We've had to work to add dimension to them, and that's been a lot of fun. To delve into these characters and realize them more fully. It's been fascinating to see the show become more 3D over the course of rehearsals, in a way."
Francisco directed A2CT's production of "Sweeney Todd" last season, and though that provided a greater technical challenge, musically, the hard part of "Les Mis" is performers' familiarity with the original Broadway cast recording.
"People have to unlearn what they know," said Francisco. "They want to sing along with the parts and solos they've always sung, and you have to say, 'No, you're supposed to sing this line.'" Meanwhile, the film adaptation will likely both hurt and help Francisco's show. "It brought the show back to people's consciousness, … but the movie also turned a lot of people off. Not every stage show is appropriate for a film adaptation."
Even so, "Les Mis" - which on paper didn't exactly scream "blockbuster" - struck a chord that continues to peal madly among theatergoers.
"People definitely gravitate toward tragedy," said Francisco. " … The love triangle and the struggles and the characters transcend the show so that it's almost timeless."
Jenn McKee is an entertainment reporter for AnnArbor.com. Reach her at jennmckee@annarbor.com or 734-623-2546, and follow her on Twitter @jennmckee.