play preview
Ann Arbor Civic Theatre goes for the throat with 'Sweeney Todd'
Posted on Sun, Jun 3, 2012 : 5:30 a.m.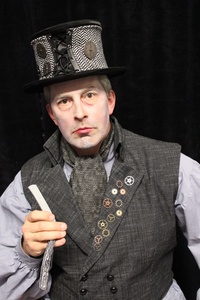 Photo by Charlotte Morrelli

There are some clear advantages to casting a community theater production of a musical in Ann Arbor—as Rachel Francisco, director of Ann Arbor Civic Theatre's production of "Sweeney Todd, The Demon Barber of Fleet Street" can tell you.

"All of my leads have at least one voice degree," said Francisco.

Given the demands of Stephen Sondheim's score, the main cast members' vocal training has been, if not technically a necessity, a considerable bonus.

"It's extremely difficult music," said Francisco. "It's quite complex. There's a lot of dissonance, and there are so many instances where what the vocalists are singing has absolutely nothing to do with the accompaniment—on any level."

The show premiered on Broadway in 1979 and won 8 Tony Awards, including best musical.

A dark story of revenge and obsession, "Sweeney Todd" focuses on a man who returns to London after being wrongly exiled for 15 years. The judge responsible for this also caused the man's beloved wife to commit suicide, after the judge raped her, so Todd vows not only to even the score with the judge, but with the world. To this end, he slits the throats of unsuspecting customers who end up in his barber chair, while his neighbor, Mrs. Lovett, bakes the victims into pies.
PREVIEW
"Sweeney Todd"
Who: Ann Arbor Civic Theatre.
What: Stephen Sondheim musical about a murderous barber in 19th century London. With the help of a diabolical baker named Mrs. Lovett, Sweeney Todd takes revenge on the judge who, in the past, banished Todd and ravaged his wife.
Where: Lydia Mendelssohn Theatre, 911 N. University Ave.
When: Thursday-Saturday at 8 p.m., and Sunday at 2 p.m., June 7-10.
How much: $22 ($20 for seniors, $12 for students). On Thursday, all seats are $17 ($12 for students). Tickets available by phone at 734-971-2228, or online at www.a2ct.org.
Given this grisly premise, any director that takes on "Todd" must determine how graphic his/her production will be.
"I'm actually going with no blood," said Francisco. "I'm choosing to focus more on the sexual tension and perversion and corruption. Because the reality is, the entire play is (set in motion) because the judge covets the wife. It's all about … possession."
To visually underscore this idea, Francisco developed a very specific design concept and storyboarded the show for her costume designer.
"Color means a lot to me in this one," she said. "Each of the leads has their own color palette, and the entire production has a color palette. I'm using the color red symbolically—not for blood, but for … sexual assault. … Sex had a different meaning in that society. I think, especially for the lower classes, it was far more prevalent, while the upper-class women were all extremely closed off and inexperienced, and they didn't know much. But in this, sex is out in the open. And that's part of it."
While adopting a Victorian steampunk aesthetic for the show, Francisco has also embraced "Sweeney Todd"'s moments of humor.
"Mrs. Lovett is, obviously, on many levels the comedic relief, but at the same time, she's not just a clown," Francisco said. " … The material is such that you can have a humorous moment and then immediately go back to this extremely dark moment, and it doesn't feel jarring. … This cast has done an incredible job of being able to rotate the lens, so to speak, from it being funny to dead serious in a heartbeat. And it's working."