Posted on
Sat, Mar 3, 2012 : 5:11 a.m.
Ann Arbor Civic Theatre invites you to stroll through 'Grey Gardens'
By Jenn McKee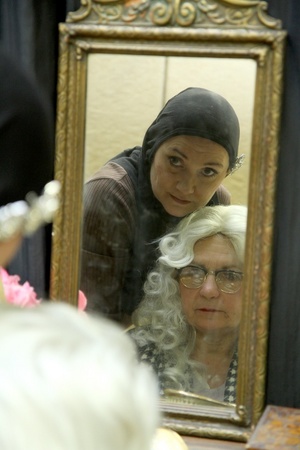 Photo by Caleb Newman
Big Edie and daughter Little Edie Beale—who were
Jacqueline Kennedy Onassis
' aunt and cousin, respectively—long ago earned cult icon status by way of the 1975 documentary "Grey Gardens." Made by filmmaking brothers
Albert and David Maysles
, the film chronicled the life and relationship of the highly eccentric Beales—who were then living in a dilapidated mansion in East Hampton with cats and raccoons (among other animals).
A stage musical adaptation of the Beales' story, also called "Grey Gardens"—now being staged by Ann Arbor Civic Theatre—premiered on Broadway in 2006; and Tony Award-winning star Christine Ebersole's performance during the televised ceremony got the attention of Edmond Reynolds.
"I saw her perform 'The Revolutionary Costume for the Day,' and it was such a funny, wacky number that it really resonated with me," said Reynolds, who's directing A2CT's production. "It stayed with me and got me thinking about the show."
Here's the clip of Ebersole's performance:
Ebersole's performance thus inspired Reynolds to buy the show's cast recording, which he loved, and he'd already seen the documentary in college. So the next step was to check out the show's script.
"I thought it was so clever in the way it drew from the documentary's dialogue, and how they also used that dialogue in the songs, too," said Reynolds.
The 9-person show—which suggests an intimacy befitting A2CT's venue (U-M's Arthur Miller Theatre)—is structured in two acts. The first is set in 1941, when the intact Beale family was the toast of East Hampton society. The second is set in 1973, when the two women are aging alone together while everything around them decays.
"I just approached it as two distinct plays, with this common thread anchoring them together," Reynolds said. "In Act One, the music is very Irving Berlin, Cole Porter-like, with several upbeat, up-tempo songs. And in a way, not having (documentary footage from this era) really maybe makes directing the first act easier, since nobody really knows how they lived then, and what it was like. So there's more freedom.
"But Act Two focuses on the iconic, pop-culture figures that so many people already know, … and is more reminiscent of Sondheim and Tennesse Willaims, in terms of the tension between mother and daughter. So the trick is tying the two acts together."
PREVIEW
"Grey Gardens"
Who: Ann Arbor Civic Theatre.
What: A stage musical about the eccentric aunt and cousin of Jacqueline Kennedy Onassis, Big Edie and Little Edie Bouvier Beale.
Where: Arthur Miller Theatre, in U-M's Wallgreen Drama Center, 1226 Murfin.
When: Thursday-Saturday at 8 p.m., Sunday at 2 p.m.
How much: $22 ($20 for seniors, $12 for students). On Thursday, all seats are $17. 734-971-2228 or www.a2ct.org.
Another trick involves transforming the all-important estate from heyday to squalor between acts. Reynolds wouldn't reveal all his secrets on this point, but noted that set designer
Leo Babcock
has designed a rotating set that allows for exterior and interior scenes and also features recognizable (from the film) locations like the yellow bedroom, the staircase, and the porch.
Plus, just as the two women often directly speak to the filmmakers in the documentary, the Beales in Reynolds' production will address the audience.
And while the Beales are often categorized as "recluses," Big and Little Edie, Reynolds noted, readily invited the filmmakers into their home.
"These were smart women—ahead of their time, really," said Reynolds. "But they weren't allowed to make the choices they wanted to in the '40s. Big Edie wanted to become an opera singer, which was unheard of in her circles. And Little Edie wanted to be a dancer, and her father wouldn't hear of it."
Reynolds was quite young himself when he first encountered the Beales' unusual story.
"I remember when their house was raided," said Reynolds. "I was a 10- or 11-year-old at the time, and I remember seeing pictures in the newspaper and thinking, 'How can they live like that?' I just figured everyone related to Jackie Kennedy would be rich."
Jenn McKee is the entertainment digital journalist for AnnArbor.com. Reach her at jennmckee@annarbor.com or 734-623-2546, and follow her on Twitter @jennmckee.