Posted on
Tue, Jun 12, 2012 : 5:57 a.m.
Ann Arbor Civic Theatre presents new works via The Play's the Thing
By AnnArbor.com Staff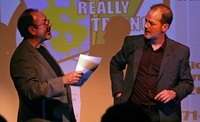 Photo by Tom Steppe
Ann Arbor Civic Theater
will present The Play's the Thing, a weekend of readings of new works, June 15-17 at the A2CT Studio Theater, 322 W. Ann St.
Performances are June 15 and 16 at 8 p.m. and June 17 at 2 p.m. All performances are free. For additional information, maps, and directions, visit www.a2ct.org or call the office at 734-971-2228.
The Play's the Thing is a collaboration between playwrights and audience members. Playwrights hear their works read aloud, and the audience gives feedback to facilitate new play development. Each performance features a different type of play.
On Friday night, "Show Me Your Shorts" is a series of 10-minute plays featuring Abe Lincoln, Vincent Van Gogh, and Persephone, along with other characters, and mixes dark comedy, romance, and absurdist fantasy.
Saturday night, "One is the Loneliest Number" is a series of one-act plays. The two plays explore the relationship between man and machine from two different perspectives: cyber romance and cyber dystopia.
The Sunday matinee, "I Can't Believe I Read the Whole Thing," features a full-length play that pokes fun at familiar fairy tales in an adult-oriented way.
"We received over 50 submissions from all over the country," said The Play's the Thing's producer, Catherine Zudak, in a press release. "Lots of good writing made it really hard for us to chose. Most of our selections are from local writers, but we have playwrights traveling from as far away as Oregon. Readings are so important. Playwrights need to see and hear an audiences' reaction to make a good script great."
The talented writers whose plays are featured in the festival include Ron Riekki, Sophia Blumenthal, Matt Martello, Connie Bennett, Janet Pound, Stacey Lane, Madelena Forte, and Eric Bloch and Amy Milligan. A talkback with the audience will follow each reading.