Posted on
Sun, Oct 23, 2011 : 5:22 a.m.
Ann Arbor Civic Theatre takes on Arthur Miller classic 'Death of a Salesman'
By Jenn McKee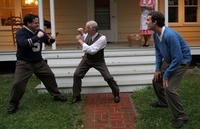 Photo by Caleb Newman
Elements of today's tough economic climate—high unemployment; people losing their homes, businesses, and retirement savings; and pervasive anger at Wall Street, banks, and politicians—have recently sparked a wave of intense soul-searching at the individual and national level.
So what better time to re-visit a canonical play—Arthur Miller's "Death of a Salesman," now being staged by the Ann Arbor Civic Theatre - that focuses on disillusionment?
The drama focuses on Willy Loman, an aging traveling salesman whose best days are far behind him. Forced to examine his past, and the failed relationship he has with his two sons, Biff and Happy, Willy struggles to figure out why he never achieved the success and fortune that had always been his dream.
"Salesman," widely considered a masterpiece, will be presented at U-M's Arthur Miller Theatre, so named because the canonical playwright graduated from the University of Michigan in the 1930s.
"The working title of the play was 'The Inside of His Head,'" said director Debra Reichard. "And Miller wanted there to be a big head onstage, cracked open. But that was 'pre' that type of theater, so it didn't happen. But what's really striking, and what sticks with me is … it's not a repressed memory, not a flashback, but rather a double exposure. We don't realize how the subconscious is informing everything we do. And we get to see (Willy's) subconscious and be in his head for 24 hours. It just reminds us that most of the time, you just don't know what someone's thinking."
PREVIEW
"Death of a Salesman"
Who: Ann Arbor Civic Theatre.
What: Arthur Miller's classic play about aging traveling salesman Willy Loman, who, as his life unravels, struggles to figure out why he never achieved the success and fortune he always dreamed of.
Where: The Arthur Miller Theatre, in the University of Michigan's Walgreen Drama Center at 1226 Murfin Ave.
When: Thursday-Saturday, Oct. 27-29, at 8 p.m., and Sunday, Oct. 30 at 2 p.m.
How much: $20 ($18 for seniors, $10 for students). All tickets for Thursday night's performance are $15. Call 734-971-2228 or visit www.a2ct.org for advance tickets.
"Salesman" premiered in 1949 and received both the Pulitzer Prize for drama and the Tony Award for best play. And while
Lee J. Cobb
originated the role of Willy Loman, many people associate
Dustin Hoffman
with the role, after he starred in a celebrated 1984 Broadway revival (which earned him a Drama Desk Award) and a 1985 television adaptation (resulting in Emmy and Golden Globe Award wins).
So how do actors and audiences block out the inevitable association between Hoffman and "Salesman"'s iconic central character?
"You know what?" said Reichard. "You will. Marc Holland is phenomenal in the role. I know there's this thought out there that community theater (shouldn't be taken seriously). … But there are a lot of trained people who've just taken different paths in their life. They've chosen to focus on family or other things, and couldn't afford the luxury of a life in the arts … Having said that, ('Salesman') is still a bold choice for a community theater group. But I've got really strong people, and I'm really excited."
A new Broadway revival of "Salesman," starring Oscar winner Philip Seymour Hoffman, is planned for the spring.
"That's a coincidence, but reading about that may have been what put (the play) in my head at first," said Reichard. "I hadn't read (the play) since high school, so I went back and read it, and I was blown away. I'm always looking for a challenge, and I was really attracted to what it said to me today in terms of … seeing something I could bring to it."
How did Reichard experience the play differently this time around?
"Without giving too much away, I saw that it was partly about how the American dream can potentially cloud up one's inner voice," said Reichard. "Not that the American dream is bad. But in our production, it's 'Death of a Consumer' in a way, rather than 'Death of a Salesman.' (Willy Loman) believes in love so much, and … being well liked and all that. And it's the betrayal of his love for his family and his son that ruins his life, more than his professional failure."