Posted on
Mon, Aug 13, 2012 : 5:58 a.m.
Ann Arbor Civic Theatre to present Home Grown: Plays from the Ground Up
By AnnArbor.com Staff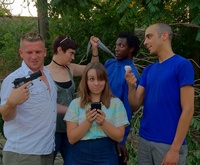 Photo by Sarah Erlewine
Ann Arbor Civic Theatre
will present a weekend of new works August 17-19 at the A2CT Studio Theater, at 322 W. Ann St. in Ann Arbor. Performances are August 17-18 at 8 p.m. and August 19 at 2 p.m. All tickets are $12 for general seating. For additional information, maps and directions visit the A2CT website at
www.a2ct.org
or call the office at 734-971-2228.
Home Grown: Plays from the Ground Up is a comedic compendium of original short plays penned by playwrights from around the country. From Ann Arbor to Oregon, the four plays represent some of the best new works by exciting new voices. In "Pre-existing Conditions," by Madeline Diehl, a man and woman meet on the sly and nothing is what it seems. "How to Kill Yourself with a Gun and a Bottle of Pills," by Ron Riekki, finds a pair of hapless friends plotting to end it all, with hilarious results. In "Corker," by Sophia Blumenthal, a disparate couple meets in a New York subway station and discusses life, love, and the future. "Assigned Blessing," by Connie Bennett, pokes fun at playwrights as two writing-class students invent the interior life of a stranger in a coffee shop.
"I'm thrilled to be directing such an eclectic set of original comedies," said director Sarah Erlewine in a press release. "'Pre-Existing Conditions' came to us as a submission to the Studio Series and, although it was written by an Ann Arborite, it has been produced Off-Broadway in New York. I was lucky to be able to choose the other three plays from Civic's playwriting festival, The Play's the Thing, this June. With nine plays presented at the festival, it was hard to choose only three!"
Plays from the Ground Up features Jeff Miller, Nicholas Boggs, Christina D'Amato, Catherine Zudak, Kristin Stelter, Megan Shiplett, James Christie, Joseph Jones, and David Melcher.