Posted on
Sun, Jun 3, 2012 : 7:40 a.m.
Ann Arbor Dance Works will celebrate downtown - right in the middle of it
By Susan Isaacs Nisbett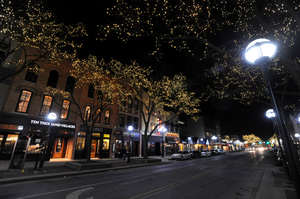 Melanie Maxwell | AnnArbor.com
They've danced in the Arb. Now they're taking to the streets.
"I have wanted to do something in downtown Ann Arbor for a while," said Jessica Fogel, artistic director of Ann Arbor Dance Works, the professional dance collective of University of Michigan dance faculty.
Now the company—composed of U-M students working with U-M and guest choreographers—fulfills Fogel's desire with "Corsets, Grains & Greenways: Dancing Downtown Ann Arbor," a unique, site-specific dance that takes viewers on a stroll through the heart of the city as it celebrates the layered histories of several iconic downtown sites.
PREVIEW
"Corsets, Grains & Greenways: Dancing Downtown Ann Arbor"
Who: Ann Arbor Dance Works .
What: Site-specific dance celebrating downtown Ann Arbor.
Where: The dance begins at the WSG Gallery, 306 S. Main St., and proceeds to other locations over a four-block route.
When: Thursday-Saturday, June 7-9, 7 p.m.
How much: $15, $10 students and seniors, Michigan Union Ticket Office, (734) 763-8587, and online at www.mutotix.com. Tickets also at the door, but seating is very limited and advance purchase is encouraged. For more information: annarbordanceworks.com.
Performances, set for Thursday-Saturday, begin at 7 p.m. in the WSG Gallery at 306 S Main St. WSG is but the first of several sites on this four-block terpsichorean tour.
From WSG, located in the elegant historic Pratt Building—once a corset factory, and later a hardware store and a department store before becoming a gallery space—the dancers and their audience move on to the "Kline's" alley; to Downtown Home & Garden; to the corner of First and Liberty streets for an dance on the sidewalks near the railroad tracks; and finally to the parking lot behind 415 W. Washington Street (opposite the Ann Arbor Y), an area envisioned as anchor park for the proposed Allen Creek Greenway.
If the route is a connect-the-dots of destinations—with sideshows along the way—connection is the theme of the event, on many levels.
The partnerships are numerous. Dancers from Community High School's Dance Body star in the dance in Kline's Alley, choreographed by UM dance alumna Marly Spieser Schneider; U-M choreographers (Fogel and Robin Wilson) join up with with guests (Adesola Akinleye and Monica Bill Barnes) to produce the evening's various dances ; and the Allen Creek Greenway Conservancy, the WSG Gallery (with its featured artists) and Downtown Home & Garden are all active participants.
"It's about connecting with different communities," Fogel said of the event, "and about how these communities fit together, dance together, play together. It's a very Ann Arbor experience."
The sites are linked thematically in that they all harbor stories of continuous reinvention, restoration, and metamorphosis. The entire performance lasts approximately 90 minutes.
It's taken lots of planning to make it come together.
First of all, as Fogel pointed out, "everything is interesting if you begin to look at it," so winnowing possible dance sites was not an easy task.
The choices were narrowed by onlooker logistics: the need for a route an audience could walk easily and that, as Fogel put it, "didn't mess with cafes or crowds." And the sites were vetted for danceability: how aerobic could dancers be on concrete? In the WSG gallery? The city, too, had to weigh in, requiring a list of all the sites before issuing permission for the peripatetic event.
Of course, when you take to the streets, anyone is free to watch. But tickets are for sale, and those who purchase them will be the only ones to see the WSG Gallery portion of the dance. And the only ones to receive folding stools to tote along for "premium seating" at the other event-sites. The dance, by the way, takes place rain or shine, so if clouds look productive, umbrellas and ponchos are much in order.
"It's a big experiment," Fogel admitted. "You never know how it will turn out till you go through it. But it's a very exciting thing to try."