Posted on
Fri, Dec 16, 2011 : 5:58 a.m.
Ann Arbor District Library's 'Rock and Revolution' exhibit a don't-miss document of a bygone era
By John Carlos Cantu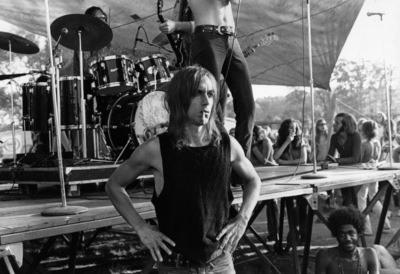 courtesy of the Ann Arbor District Library
The Ann Arbor District Library's "Rock and Revolution" exhibit displays a wide-ranging display of artworks and photojournalism, running the gamut from homegrown social circumstance to vivid kaleidoscopic art.
Part of the recently held AADL "Freeing John Sinclair: The Day Legends Came to Town" series of public events, the exhibition inaugurates the library's "Freeing John Sinclair" website (available at aadl.org)—marking the 40th anniversary of the John Sinclair Freedom Rally, held Dec. 10, 1971 at the University of Michigan's Crisler Arena.
Sinclair—a Detroit poet, manager of the MC5 rock band, and leader of the White Panther Party, an anti-racist countercultural group seeking to assist the Black Panthers in the late-1960s civil rights movement—was sentenced to 10 years in prison in 1969 after giving two marijuana cigarettes to an undercover narcotics officer.
His struggle inspired political activist Abbie Hoffman to jump on the stage during The Who's Aug. 1969 performance at Woodstock to protest. And it also sparked the landmark rally in 1971.
This concert united in common cause, pop and rock musicians John Lennon, Yoko Ono, Stevie Wonder, Phil Ochs, and Pete Seeger, as well as Ann Arborites Bob Seger and George Frayne as Commander Cody (and His Lost Planet Airmen); jazz artists Archie Shepp and Roswell Rudd; with the additional participation of poet Allen Ginsberg, and political activists Hoffman, Rennie Davis, David Dellinger, Jerry Rubin, and Bobby Seale.
Three days after the rally, Sinclair was released from prison. And in 1972, Sinclair's case became United States v. U.S. District Court, 407 U.S. 297, where on appeal to the United States Supreme Court, a landmark decision was reached prohibiting the government's use of electronic surveillance without a search warrant.
Yet that's merely the exhibit's back story, because the Sinclair rally was easily Tree Town's rock and revolution high-water mark—and this expansive AADL exhibition thoroughly captures the moment.
The display—taking up the AADL's Lower-Level Meeting Room and its adjoining lobby display cases as well as their Third Floor Art Gallery—consists of photographs taken by Leni Sinclair and David Fenton; posters from the collection of Internet entrepreneur Michael Erlewine (who founded All Music Guide in 1991); and a stash of historical documents from the U-M Bentley Historical Library's John and Leni Sinclair Papers.
Among the Bentley's documents are minutes from White Panther Central Committee meetings; notes and letters tracing the origins of the White Panthers' "Ten Point' manifesto outlining the party's support of the Black Panthers; a memo from the files of J. Edgar Hoover to President Richard Nixon about White Panthers activities; plus fliers, photographs, and letters tracing the cultural, political, and business activities of the Sinclairs.
The photojournalism of Leni Sinclair and Fenton, both former members of White Panthers and its offshoot Rainbow People's Party, document these groups' activities through what the AADL's gallery statement calls insiders' "perspectives on the social-political movements of that period in Ann Arbor's history (that) features the people, the music, and the events of their time, from the celebrated concerts and rallies of the late '60s to home life at 1520 Hill St."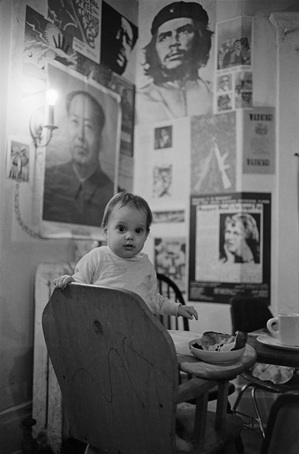 Leni Sinclair's 22 black and white photographs in particular illustrate the behind-the-scenes moments that show the group (along with allies and hangers-ons) working together to craft what they believed was going to be a viable alternative to mainstream American society. Focusing on work and play, Sinclair's intimate art is at its best when giving us a keyhole in Ann Arbor's music scene. For example, her photo of James Osterberg (aka Iggy Pop) casually wearing a muscle T-shirt at a local 1971 outdoor concert (he was, at one time, Erlewine's percussionist with Ann Arbor's seminal The Prime Movers), shows us the man before he became a worldwide symbol of rock and rebellion.
No less an accomplished photographer—as well as one of the celebrated photojournalists of the Vietnam War era, working for such periodicals as Life Magazine and the New York Times—David Fenton keyed in on the political situation as he perceived it. Considering that Ann Arbor a hotbeds of social activism in the 1960s-70s, Fenton certainly had enough material to work with. All the more reason his Jan. 2, 1971 "Lefty Baby"—a photograph of youthful Ann Arborite Una Bach in her high chair on Hill Street—is often considered one of a famed understated images of the era.
But perhaps the real find here are the 32 posters drawn from Erlewine's collection of 1960s-70s Michigan art rock posters, representing his graphic arts career as well as the career of legendary poster artist Gary Grimshaw.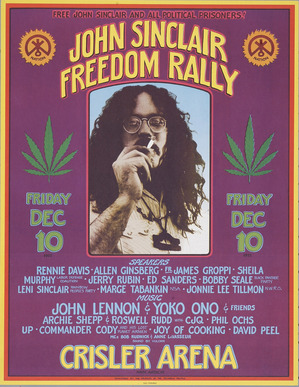 courtesy of the Ann Arbor District Library
Grimshaw has the unique knack of not overwhelming his material while also promoting the performers who served as the purpose of his art. Working across the music currents of the era—from the remarkable 1970s Ann Arbor Jazz and Blues Festivals to one-night stands at now all-but-forgotten Midwest venues—Grimshaw handily crafted material that reflects the music, the musicians' personalities, and the musical happenings, as superbly realized works of art.
Indeed, his "Ten for Two John Sinclair Freedom Rally" banner for the Crisler Arena concert is now likely as well-known as the rally itself. He centers Sinclair with as uncompromising a point of view as the judicial decisions themselves that made the event famous. At the end of the day—and at the end of the era—through one unfussy image mingling art, politics, sociology, and Ann Arbor rock music, Grimshaw's poster is one of the great iconic documents of America's last half-century.
"Rock And Revolution" will continue through Jan. 15, 2012 at the Ann Arbor District Library, 343 S. Fifth Ave. Exhibit hours are 10 a.m.-9 p.m. Monday; 9 a.m.-9 p.m. Tuesday-Friday; 9 a.m.-6 p.m. Saturday; and noon-6 p.m. Sunday. For information, call 734-327-4200.