Posted on
Sun, Aug 19, 2012 : 5:42 a.m.
Ann Arbor District Library exhibit celebrates 20 artful years of Motawi Tileworks
By John Carlos Cantu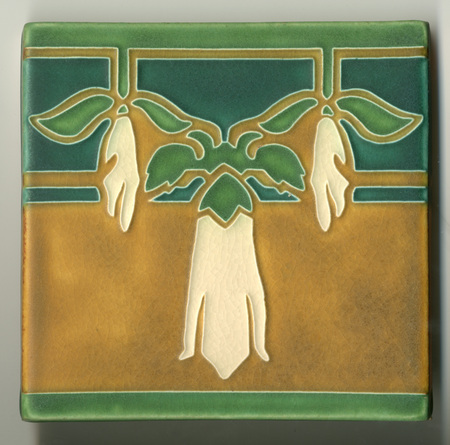 "Motawi in the Making" at the Ann Arbor District Library is as much about community outreach as it is an artful detailing of this local tile company's award-winning history.
The AADL's glass cases are precisely the right kind of space for the exhibit because of the nature of the firm's end product as well as the manner in which these tiles are crafted. It's no easy feat, and it's an art form certainly well worth investigating.
As Emily Mathews, Motawi marketing manager, says of the display, "This year marks the 20th anniversary of Motawi Tileworks. Nawal Motawi, our founder and owner, knew that she wanted our celebration to be community-based.
"Of course, you're going to see lots of beautiful tiles in this exhibit—old favorites, new favorites, and rare pieces that aren't in production any more.
"But in addition to our finished work, we also wanted to focus on our history and processes. They tell the story of how Nawal's dream began at a booth in the Ann Arbor Farmers Market and grew into a nationally-known, award-winning business."
As the firm's studio description says, "Nawal Motawi, founder of Motawi Tileworks, was first exposed to the tile of the Arts and Crafts movement at Pewabic Pottery in Detroit, which she visited during her first college ceramics class. 'My professor had just completed a gigantic tile mural created with Pewabic Pottery, which he took us all to see,' says Motawi, 'and I immediately began to fantasize about someday making tile work like that.'
"In 1992, (Motawi) set out on her own, starting what soon became Motawi Tileworks. As the business grew, Nawal sought help from her younger brother, Karim. They worked together for the next 16 years until Karim sold his share of the partnership to Nawal in 2009. Today, Motawi Tileworks employs a staff of 30 and produces over 10,000 square feet of tile per year."
That's a lot of tile—as well as a lot of disciplined creativity that straddles both art and science.
"What amazes me most about the tile work," says Mathews, "is how Nawal has been able to leverage the best of technology with the best of hand-craftsmanship through the years. Many of the steps are done by hand—we touch our tiles over 30 times from start to finish—but we're able to work more efficiently by using technology in key areas."
"I'm also intrigued by how much science goes into the art itself," continues Mathews. "We're constantly measuring, testing, and experimenting with our clay, glazes, and application techniques to create more consistency in our tiles. Even now, we look at mistakes as valuable learning opportunities—we can use them to get to the root of a problem or to make a process better."
These are astute observations, and as such, the display is divided into eight sections that detail the tile-making process step by ste,p from ceramic pug to finished design. In showing us this process, the display differentiates between field tile, relief tile, and polychrome tile—with samples through these last two decades that show the techniques at their best.
Hence one display shows us a Motawi preliminary sketch while another case features 16 separate 12"x12" paperboards reflecting the various permutations of a frog design with four ceramic 6"x6" tiles that show the final steps taken to get the product to the marketplace.
The exhibit culminates in a case filled with popular samples running through the firm's history, featuring 39 examples of what they do best. From a perennially popular gold-tinged experimental luster "Art Nouveau Four-Dot" tile to an exceedingly handsome 2007-09 "Amaryllis" whose polychrome finish salutes America's perennial fascination with nature and functional art, the exhibit shows us the ingenuity of craft and design that goes into the making of these diminutive artworks.
"I think my favorite pieces of the exhibit," says Mathews, "is a side-by-side comparison of two 8"x8" 'Pine Landscape Valley' tiles. They have the same design, but were produced over ten years apart. The 2012 tile has crisper lines, brighter glazes, and a more consistent thickness than its older counterpart. Just like the Tileworks, it keeps getting better over time."
Indeed, after two decades and counting, Motawi's tiles aren't getting older, they're just getting finer.
"Motawi in the Making" will continue through Sept. 5 at the Ann Arbor District Library's lower level, 343 S. Fifth Ave. Exhibit hours are 10 a.m.-9 p.m. Monday; 9 a.m.-9 p.m. Tuesday-Friday; 9 a.m.-6 p.m. Saturday; and noon-6 p.m. Sunday. For information, call 734-327-4200.