Posted on
Mon, Apr 29, 2013 : 1:13 p.m.
Ann Arbor District Library to offer 'Fresh Takes On Animated Films And Live Music'
By Ann Dwyer
If the thought of watching a Michael Bay movie fills you with dread, then take a break with An Evening Of Fresh Takes On Animated Films And Live Music, a film and concert event at the Ann Arbor District Library.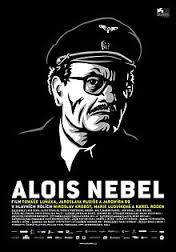 The program will bring together an 80-minute animated feature and an Oscar-winning short with live music by Cash Harrison & The Terrible Decisions in between films.
The opening short will be "The Fantastic Flying Books of Mr. Morris Lessmore," (naturally) by award-winning author/illustrator William Joyce and co-director Brandon Oldenburg. It combines a variety of techniques to present a hybrid style of animation reminiscent of silent films and M-G-M Technicolor musicals.
The 80-minute feature is 2011's critically acclaimed Czech film "Alois Nebel," in which a train dispatcher finds himself mysteriously involved with a murder in Poland after he encounters a mute stranger who appears out of nowhere. Based off the graphic novel series of the same name, the animation style resembles that of Archer but in black and white.
Fresh popcorn will be served.
Friday, May 3, 2013. 6:30-8:30 p.m. Free. the AADL is located at 343 S. Fifth Ave., Ann Arbor. 734-327-4200.