Posted on
Sun, May 12, 2013 : 5:09 a.m.
New Ann Arbor in Concert group presenting inaugural show 'Ragtime'
By Jenn McKee
photo courtesy of Ann Arbor in Concert
Having directed casts of one hundred-plus in past
Burns Park Players
musical theater productions (among others),
Mike Mosallam
is used to being at the helm of large-scale performance groups.
But since his newest venture, Ann Arbor in Concert (which he formed with music director and fellow U-M grad Eric Lofstrom), recruited more than 100 volunteer singers, musicians and musical theater performers to present "Ragtime: The Musical" in a concert format, Mosallam's been personally breaking new ground.
"Nothing I've done in the past exactly fits this bill," said Mosallam. "Nothing's been this epic. … And I can't express enough how excited I am to do this. Eric … called me during rehearsal yesterday and I was in tears."
Mosallam was listening in by phone because the former Ann Arbor resident now calls Los Angeles home. (Mosallam is working with the acting and staging in the weekends leading up to A2IC's one-night performance, while Lofstrom is rehearsing and polishing the music through the week.)
"Professionals come together and put together a show in a few weeks," said Lofstrom. "With most community theater groups, it's a 3- or 4-month process. So part of this process is introducing amateur folks to a professional schedule."
PREVIEW
"Ragtime"
Who: Ann Arbor in Concert
What: An ensemble of more than 100 singers and musicians - which will feature several University of Michigan school of music, theatre and dance students and alumni - will perform the book (by Terrence McNally) and score (by Lynn Ahrens and Stephen Flaherty) from the 1988 Tony Award winning show, based on E. L. Doctorow's novel about three families in turn-of-the-century America as they face wealth and poverty, freedom and prejudice, hope and despair.
Where: Michigan Theater, 603 E. Liberty St. in Ann Arbor.
When: Saturday, May 18 at 8 p.m.
How much: $25 for general admission, $50 for the VIP section, and $15 for students and seniors. Tickets can be purchased at the door, or in advance via Ticketmaster, 1-800-745-3000, or www.a2ic.org. For more information, visit the website or call 734-786-3868.
Not that all of A2IC's performers are amateurs. Featured players include U-M grads like
Clark Baxtresser
(playing Younger Brother), who was music director for
Team Starkid
's two national tours and four productions;
Adrienne Pisoni
(Mother), who recently played Anne in
Performance Network
's "A Little Night Music"; and current U-M students
Imani Mchunu
(Sarah) and
Kimberly Hay
(Evelyn Nesbitt), among others.
"We hosted auditions, and people really came out," said Lofstrom. "We were shocked the first day. We held auditions in December, and we were expecting very few people. We'd posted announcements in places actors and musicians look to, and we turned around and 70 people had signed up. … I take a lot of pride in the fact that these are local folks. They're all volunteers."
This includes the orchestra, with musicians who don't often get opportunities to play musical theater scores.
"Plus, since it's a concert, they're on stage, and not tucked away in a pit," said Lofstrom. "Because in this format, there's more emphasis on the music and the words, … they also don't have long gaps where they just sit there. That's one of the reasons that we chose 'Ragtime.' It's almost an operetta, in that there are very few times when the orchestra is not playing. … It's an epic show, and the music is amazing."
Based on E. L. Doctorow's 1975 novel of the same name, "Ragtime" - with lyrics by Lynn Ahrens, music by Stephen Flaherty, and a book by Terrence McNally - follows the lives of three American families at the turn of the 20th century: a Harlem musician and the woman he loves; upper-class suburbanites; and Jewish immigrants from Latvia.
The Broadway premiere production of "Ragtime" earned 13 Tony Award nominations in 1998, winning four, and starred Brian Stokes Mitchell, Audra McDonald, Marin Mazzie, and "Glee" star Lea Michele, among others. The score features various musical styles of the period, including ragtime, klezmer, marches, waltzes, banjo tunes, parlor songs and anthems.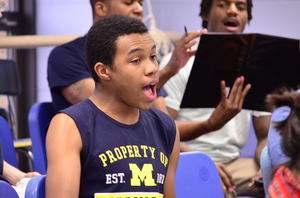 courtesy of Ann Arbor in Concert
In A2IC's show, all the songs will be performed with a large chorus and orchestra on stage, with the principals performing their roles (with minimal staging) in the front.
And although this is A2IC's first presentation, Mosallam and Lofstrom hope to make it an annual event, if not a company that presents a concert 2 or 3 times a year.
"We want this to become an event that people in Ann Arbor look forward to," said Lofstrom. "We want it to be something people put on their calendars every year. … One of those special evenings that people look forward to."
Mosallam and Lofstrom are already anxiously awaiting A2IC's inaugural show, since they started talking about staging something like this concert a decade ago.
"We talked about how to do really big shows in a format that's not done all the time, and not something you see every day," said Lofstrom. "We talked about it and we talked about it, and we never did it, until finally we said, 'Let's just do it.' And we were crazy enough to think we can pull it off."
Jenn McKee is an entertainment reporter for AnnArbor.com. Reach her at jennmckee@annarbor.com or 734-623-2546, and follow her on Twitter @jennmckee.