Posted on
Tue, Mar 19, 2013 : 11:41 a.m.
Ann Arbor native Andrew WK is the spokesman for new line of 'intimate wipes'
By Jenn McKee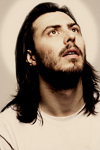 The next stop in the increasingly weird and unpredictable career of Ann Arbor native rocker
Andrew WK
- whose 2001 hit "Party Hard" thrust him into the national spotlight - is spokesman for
Playtex Fresh + Sexy Wipes
.
Yes, after hosting a panel at a My Little Pony conference, and claiming a (short-lived and dubious) appointment as "Cultural Ambassador to the Middle East," which ended in a canceled trip to Bahrain, Andrew Wilkes-Krier has become corporate spokesman for a line of "intimate wipes."
A press release/announcement appears on WK's website.
On their choice of W.K. as spokesperson for Fresh + Sexy Wipes, Playtex said in an official statement that, "This exciting new product required the help of someone who could embody the brand's playful yet bold campaign; someone who could party hard, but still be clean when it counted. Andrew W.K. is that someone and we are thrilled to have him on board with us for Fresh + Sexy Wipes."

In addition, the duo has collaborated on a special Andrew W.K. Sensory Kit on behalf of Playtex for Fresh + Sexy Wipes. This exclusive kit will only be sent to 100 hand-picked recipients among the media, Andrew's own family of partiers, and additional friends of the brand. It will offer a sensual experience, dramatically hitting all five of the recipients' senses from the packaging to content inside.

Andrew W.K. and Playtex appeared together during the official Fresh + Sexy Party at SXSW Interactive. The party took place on Saturday, March 9th at VICELAND (401 East Cesar Chavez Street, Austin, Texas), and had Andrew hosting The Fresh + Sexy Black Booth Confessional Party, an event that included free samples of the product, free drinks, and awesome live music, including a special performance from Andrew W.K. himself. As master of ceremonies and the Playtex brand ambassador, W.K. also invited people to come clean in a one-of-a-kind confessional booth, a setting to tell stories about those exciting and spontaneous moments where they could have used Fresh + Sexy Wipes.
Will this member of the media be one of the select few to receive an Andrew WK Sensory Kit? Kind of hoping the answer is "no." But we'll see.
Jenn McKee is the entertainment digital journalist for AnnArbor.com. Reach her at jennmckee@annarbor.com or 734-623-2546, and follow her on Twitter @jennmckee.