Posted on
Tue, Jan 8, 2013 : 10:39 a.m.
Ann Arbor native Marcus Wicker receives accolades for debut poetry collection
By Jenn McKee
Where do we draw a line between writer-as-truthteller and writer-as-vulture?
Ann Arbor native Marcus Wicker explores this question and others in his debut poetry collection, "Maybe the Saddest Thing," which was one of five manuscripts selected for publication through the National Poetry Series, and which recently earned Wicker an NAACP Image Award nomination for poetry.
In a poem called, "I'm a Sad, Sad Man. So Sad" - from which the collection's title is drawn - Wicker wrote, "Just the other day, I forgot who I was / and couldn't budge to help a human in need / because the pen in my pocket was poking / my thigh saying, Use me. Use them. Write / their stories. As if I am not them - ".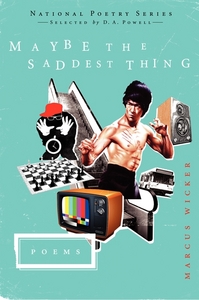 "That's a true story," Wicker said of the poem. "In Bloomington (Indiana, where Wicker earned an MFA at Indiana University), when I was in grad school, I rode the bus every day, and there was a woman who'd get on with her two daughters, and she didn't have bus fare. And I looked around, and so many of the people on the bus had laptops and iPods, but no one helped this woman out. … I took good notes, and when I sat down to write about it, I realized that while I was so focused on observing the world, I'd forgotten how to live in it."
Wicker's collection also offers a series of tongue-in-cheek, but nonetheless thoughtful, love letters to celebrities, including RuPaul, Justin Timberlake, Pam Grier, Jim Kelly (the "Enter the Dragon" actor), and Dave Chappelle.
This series began, however, with "Love Letter to Flavor Flav," which Wicker wrote and submitted for workshop during his first year in grad school, after wondering how and why reality television shows could hold an aspiring poet in their grip.
A professor challenged Wicker to write more love letters, "so I wrote love letters to RuPaul and Justin Timberlake to try and get them out of my system," said Wicker. "But once I wrote (the love letter poems), the more they stuck."
This marriage of high- and low-brow culture, plus jazz and hip-hop more generally, inform much of Wicker's poetry. "I like the improvisatory nature of jazz music, so that's something that shows up over and over again," said Wicker. "I think a good poem is really doing its job when it feels like a mix between improvisation and a piece of revised writing."
Wicker attended both Willow Run High School in Ypsilanti and Huron High School in Ann Arbor (and Ann Arbor's St. Thomas the Apostle School before that); and while he was a sophomore at Huron, Wicker's English class took a field trip to the University of Michigan campus to watch the National Youth Poetry Slam, and Wicker met local writing teacher/advocate Jeff Kass, who had some students involved in the Slam.
"I saw these students who were about my age, and they were writing the kind of things I'd been penning in my notebook," said Wicker. "That was my entree into poetry."
Wicker signed up for Kass' (inaugural) Volume Summer Institute that summer, in 2000, and thus began honing his skills and meeting other writers.
Wicker now teaches English at the University of Southern Indiana in Evansville. But while he was a grad student, he met weekly with a classmate in order to push himself to write additional work; and the two poets made a pact to think of their respective theses as a publishable collection.
So perhaps it's not surprising that a good deal of "Saddest Thing" consists of poems from Wicker's thesis. But the poet nonetheless noted that putting the collection together was "incredibly daunting." Wicker initially tried to determine which of his poems were "the best of the best," but when he sent out the original draft of the manuscript, he received multiple rejections.
"I went back to the drawing board," said Wicker. "And I realized that some of the poems I'd included were more like apprentice pieces. They'd perfectly good for the stage I'd been at when I wrote them, but they weren't necessarily publishable. So I started to really explore the things I was thinking about: masculinity, love and desire, art and writing."
Race is yet another theme that runs through Wicker's work, in sometimes haunting, sometimes funny ways.
Most of the poems in the final version of "Saddest Thing" were previously published in literary journals; but when the good news came - regarding Wicker's debut collection being selected for the National Poetry Series - the poet wasn't exactly expecting it. His 2011 Ruth Lilly Poetry Fellowship had just concluded, and Wicker was in the process of applying for other funding sources and prizes.
"I'd learned I was a finalist (for NPS), … but I'd been a finalist for prizes before, so I didn't think much of it," said Wicker. "So I was feeling stuck, and just watching 'All My Children' and sitting on the couch, when this woman called me. We were making small talk, and suddenly, she said, 'By the way, you won.'"
And while poets often feel they have to fight to maintain a place in the American cultural landscape, Wicker generally feels positive about the contemporary poetry scene.
"We're in a very exciting time in poetry," said Wicker. "There are more and more indie presses and indie magazines. And yes, sometimes it feels like you're preaching to choir at readings, but the community comes out. Almost every reading I've been part of has been packed. … And it feels like there's more space in the canon for multiple ethnicities and different perspectives. I think it's a great time to be writing poetry."
Jenn McKee is the entertainment digital journalist for AnnArbor.com. Reach her at jennmckee@annarbor.com or 734-623-2546, and follow her on Twitter @jennmckee.