Posted on
Thu, Aug 25, 2011 : 5:05 a.m.
Ann Arbor Pizza & Subs worth a visit
By Julie Halpert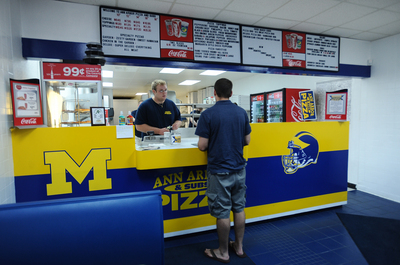 Melanie Maxwell | AnnArbor.com
Brent Anderson hopes that his new business, Ann Arbor Pizza & Subs, will stand out from competitors because of its healthy options, quick service, affordability and unique sourdough pizza crust.
Anderson opened the store in May after the predecessor, Marco's, where Anderson worked, decided to discontinue the franchise location. He's kept all of Marco's employees and the rather barren storefront as well. Aside from some maize and blue decor, it remains essentially the same. There are only two booths for seating.
Ann Arbor Pizza & Subs offers a basic menu of, yes, pizza and subs, along with some salads and wings. There are more than two dozen pizza toppings to choose from, including three types of mushrooms, artichoke hearts and pineapple.
We enjoyed watching the employee hand-tossing the pizza we ordered while we waited. The hand-tossed pizza was solid. It had a crust that was crunchy, yet spongy, with delicious sauce and fresh-tasting sausage and bacon.
On our second visit we sampled the sourdough crust. Though Anderson intended it to be a highlight, I noticed little difference between this crust and the regular pizza crust. The shiitake and spinach toppings that I ordered on that pizza were sparse and buried underneath the sauce.
RESTAURANT REVIEW
Ann Arbor Pizza & Subs
2111 Packard St., Ann Arbor
734-213-9000


Hours: Monday-Thursday, 10 a.m.-midnight; Friday, 10 a.m.-1 a.m.; Saturday, 11 a.m.-1 a.m.; Sunday, noon-10 p.m.


Plastic: Visa, American Express, Discover, Mastercard.


Liquor: No.


Prices: Inexpensive. A medium pizza is $7.95; A 6-inch sub is $5.25.


Value: Very good.


Noise level: Quiet.


Wheelchair access: Yes.
Subs are offered in either a six-inch or 12-inch size. The 12-inch provided an ample enough portion for leftovers. The sesame-seed-topped bread tasted homemade. The Italian sub was full of fresh ingredients and hearty meats and was great, served warm.
Staff are flexible here about preparing items not on the menu, and they happily obliged my daughter, who was craving a turkey sub, assembling a sandwich with turkey, lettuce, tomato and mayo that tasted fine.
Salads are what you'd expect at a place where pizza and subs are the focus. Though the ingredients were fresh, the meats in the chef smoked-meat salad tasted processed, and lacked a smoky flavor. Parmesan cheese that tasted like it came from a can was sprinkled on the Caesar, along with pre-packaged croutons.
The wings were my favorite part of the meal. We sampled the honey barbeque, and they were so moist that the sweet, flavorful chicken easily slid off the bone.

I was suspicious when, for dessert, the server handed us a small chocolate chunk cookie hastily wrapped in foil, but was pleasantly surprised when I bit into it. Tasting fresh baked, it was chewy and delicious, with big chunks of chocolate throughout. Oatmeal raisin cookies also tasted like they just came out of the oven. Don't miss out on these, and order a few, as they're small.
Service was impressive, given the fact that only one person was staffing the cash register on our first visit, taking orders and making the food. Getting our entire order to us within 15 minutes under these circumstances was quite a feat. The second time, with two employees handling orders, our food was delivered promptly as well.

Ann Arbor Pizza & Subs' more-than-adequate food and reasonable prices make it a decent dining addition to this side of town.
Julie Halpert reviews restaurants for AnnArbor.com.