Posted on
Sun, Jul 7, 2013 : 5:54 a.m.
Ann Arbor Senior Center displays artworks 'Of Many Faiths'
By John Carlos Cantu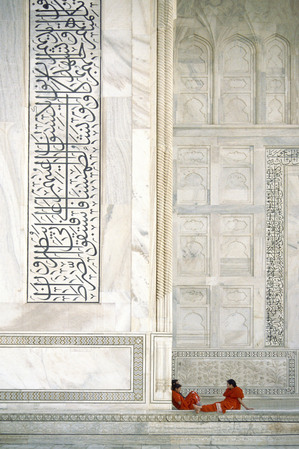 The
Ann Arbor Senior Center
's "Of Many Faiths" presents a dozen accomplished artworks by husband and wife duo Frederick and Suzanne Beutler
The diffused religiosity of these photographic and oil on canvas works proves to be the exhibit's greatest asset.
As the Senior Center's Francesca Cassara tells us in her introduction to the show, "In their world travels, local artists Fred and Sue Beutler have been inspired by the beauty of religious expression, not only in religious sites but also in the daily life of people around the globe.
"Fred and Sue have a unique eye for the ever-present human impulse for spirituality and a thought-provoking portrayal of religions worldwide. Both artists communicate the differing forms taken by various religions in their devotions, from pre-Columbian practice through Buddhism and the Abrahamic faiths. Sue's oil paintings explore that impulse through many religions, while Fred's photography both portrays and comments on the way people worship."
It's a good way to describe this compact exhibit, because "Of Many Faiths" is far more fascinated by the ineffable dimension of spirituality than by doctrines.
Fred Beutler has contributed six color photographs that take an interesting view of religion. As Cassara says, he's more interested in illustrating the power of belief rather than any specific belief-state.
A few of these photographs were on display at the Ann Arbor District Library in November 2010. And Beutler's reusing his statement from that prior "My Window to the World" exhibit.
"As a photographer," says Beutler, "I let intuition be my guide, recording those images that please me. These may include landscapes, human interest scenes, portraits, humorous situations, and textures and colors. My artistic vision is fundamentally painterly, as modified by the demands of the photographic image process. I let technology serve me, taking the same liberties as a painter might to modify the original photograph to produce my idea of reality."
Given his evident expertise, this is an understatement. As I said of that AADL display — which is also true of this display — Beutler's got a superb eye whose sensitivity serves as the invisible narration of his photograph.
"United in Faith" is an adept illustration of piety, in which a rabbi sits in a chair a few feet away from a standing military officer at Jerusalem's Western Wall; both men in deep meditation. Their wardrobe creates a societal context — just as their posture gives us another glimpse of each man's place in Israeli society — but their devotion also reflects a solidarity that speaks volumes of their culture.
As a nuanced counterexample, Beutler works the issue of faith in a casual manner where three "Keepers of the Taj" youths lounge on the steps of this magnificent Mughal edifice at Uttar Pradesh, India. But this wonderfully relaxed composition is also merely a prosaic subtext of this remarkably skillful photograph. For the photograph is precisely calibrated to give us a sense of the resplendent white marble mausoleum with special attention placed on the Koran inscriptions at its entrance.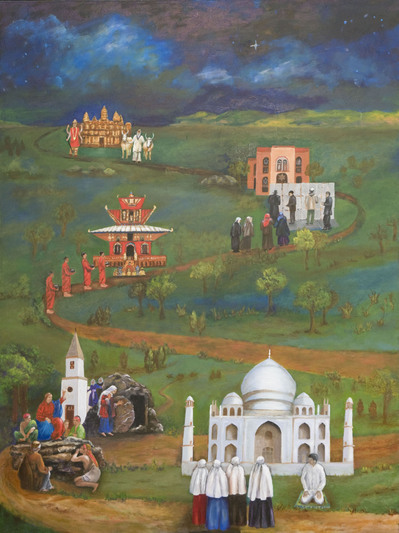 On the other hand, Sue Beutler's six oil paintings in the exhibit show us another way to depict faith. As she says in her artist's statement, "When I paint people from Mexico, Cambodia, Indian, and the Amazon, it makes feel that I am a part of our world community. I seek to paint the inner beauty I see in them."
She adds, "Even though we come from different cultures, I put myself in their culture with my imagination, knowledge, wonder, and appreciation of who they are and their contribution to our life together in this world."
It's certainly how she goes about depicting faith.
Using the time-honored tradition of iconography to illustrate her ideas, Beutler uses images that reverberate transculturally. "In my 'Gabriel: A Messenger of Peace'," she therefore says, "the angel Gabriel is important to Christian, Hebrew, and Muslim religious history, and the dove carries an olive branch of peace."
Her masterwork in the exhibit ties together the places she and Fred have visited with her keen sense of wonder. "On the Road" features the five major world religions — Hinduism, Judaism, Buddhism, Christianity, and Islam — in one grand composition.
The religions, says Beutler, "are ordered along the road according to time." And as such, the painting features a winding road from top to bottom where Angkor Wat winds its way to Jerusalem's West Wall; just as the Temple of Universal Peace winds its way to a Midwest church steeple to end up at the aforementioned Taj Mahal.
"There is not a separate road for each belief," says Beutler of both her art and her view of life, "but the same (road) for all peoples of all beliefs."
"Frederick and Suzanne Beutler: Of Many Faiths" will continue through July 31 at the Ann Arbor Senior Center, 1320 Baldwin Ave. Gallery hours are 9 a.m.-4 p.m. Monday-Thursday. For information, call 734-794-6250.