Posted on
Thu, Feb 14, 2013 : 2:19 p.m.
Ann Arbor Senior Center hosting new cultural series for all ages
By Jenn McKee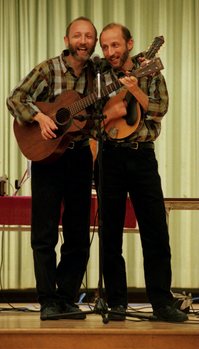 This Sunday at 1:30 p.m., the popular local music group Gemini will play an hourlong set at the
Ann Arbor Senior Center
as part of the 2013 Ann Arbor Parks and Recreation Cultural Arts and Education Series.
"We got a grant for senior entertainment, and we're contacting local groups to perform here, and Gemini, a highly respected group in the area, essentially volunteered their time," said assistant facility supervisor Joe Ruthenberg.
Gemini, a twin-brother music duo, will perform songs they learned from their father in their native Hungary; Israeli and Yiddish songs from the brothers' three years in Israel as children; and classic folk songs of the '60s, which is when they moved to America.
And since Gemini is locally popular with kids, too, the series, which is open to the public, might be a good fit for those looking for a multi-generational outing.
"The Cultural Arts series just started," said Ruthenberg. "We had a couple of events in the fall, but this is a new program for us."
Upcoming events in the monthly series include a screening of "Michigan at War: The Struggle for the Old Northwest, 1812-1815" on March 24; an acoustic performance by country artists Kay Lyn Pace, paired with an exhibition and talk focused on historic quilts of Michigan on April 21; a talk with local artists Fred and Sue Beutler, who regularly explore the intersection of art and religion, on May 26; and the Dodworth Duo, which entertains while teaching about 19th century American life, on June 23.
"We're starting to get things going," said Ruthenberg. "We're starting to see seniors and people in the neighborhood coming on a regular basis."
The Senior Center is located at 1320 Baldwin Ave. Tickets cost $5 ($4 for seniors 60 and older, and free for children under 12 that are accompanied by an adult); pre-registration is required at 734-794-6250.
Jenn McKee is the entertainment digital journalist for AnnArbor.com. Reach her at jennmckee@annarbor.com or 734-623-2546, and follow her on Twitter @jennmckee.