Posted on
Mon, Nov 19, 2012 : 11 a.m.
Ann Arbor singer-songwriter Khalid Hanifi exploring fresh lyrical ground on latest album
By Bob Needham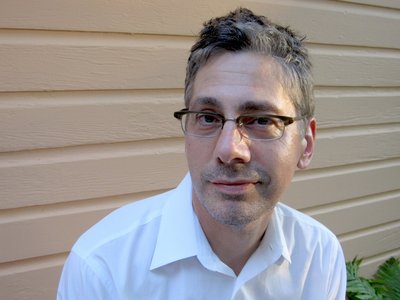 Khalid Hanifi's music career makes for an interesting story — one that's just taken an unexpected turn in the middle.
As a young man in the 1980s, his band Map of the World won critics' love and a recording contract with Atlantic Records. And although that party ended almost before it got started, Hanifi continued to write, record and perform intelligent but accessible pop music on a smaller scale—leading Kiss Me Screaming in the '90s and Maypops in the early 2000s before most recently working as a solo artist.
Through all those changes, though, certain themes endured: His songwriting has largely focused on introspective interests — lots about romance and the like. But on his new album, Hanifi sharply changes direction.
The independent release "A Brief Respite From Shooting Fish in a Barrel" addresses some of the day's thorny political issues. The music remains well crafted and listener friendly, but the themes generally feel quite a bit heavier than most of Hanifi's past work.
"I just wanted to tackle something a little bit more complex and interesting to me in song format than sort of self-involved, obtuse narcisism," Hanifi, 51, said with a smile during a recent interview at his home on Ann Arbor's west side.
Hanifi's songwriting abilities remain in full force despite the change in direction; although the album takes on themes like American imperialism and economic imbalances—even two brief instrumental interludes bear the title "Collateral Damage"—the lyrics don't lecture. The songs invite contemplation and, who knows, might even spark a friendly debate or two.
With his kids getting somewhat older now, Hanifi said it made sense to "make some time to think about what it is I'm doing with my life ... I might as well do something a little more challenging."
The song that both opens and closes the album and clearly sets its tone is called "Free The World to Death," which draws a line between the American wild West and present-day Afghanistan. The album opens with an English-language version, and closes with one in the Afghan language Pashto. The translation was done by Hanifi's father, who was born in Afghanistan and with whom Hanifi recently reconnected after almost 20 years without communicating. (Hanifi himself was born in East Lansing and grew up in Saline.)
A remarkable video for the song (see below) has been created by Brian D. Hopkins, the filmmaker whose "Dirty Energy" has been on the festival circuit. It features striking, sometimes disturbing images that drive home the importance of the lyrical concerns.
"That process was interesting, because we had big discussions about what should and shouldn't be included," Hanifi noted, adding that he ended up deferring to Hopkins' filmmaking instincts in some instances.
PREVIEW
Khalid Hanifi
Who: Longtime Ann Arbor songwriter, singer and musician, with band.
What: Music from his new album as well as old favorites.
Where: Live, corner of Huron and First streets, Ann Arbor.
When: 6:30-9 p.m. Friday, Nov. 23. Doors open at 6:00.
How much: No cover.
Khalid Hanifi live shows these days don't arrive all that often, but he will celebrate the new album with an appearance at the weekly live-music happy hour at Live nightclub this Friday starting at 6:30 p.m.
He'll front a 4-piece band including local guitar great George Bedard and drummer Chuck Mauk, both of whom play on the new album, along with Don Beyer. He plans to play older songs as well as some of the material from "Respite."
"I'm going to try and make it as fun as it can be," Hanifi said.
Beyond that, Hanifi plans to work with Hopkins again on a documentary following several Muslims with different individual situations; he'll be a co-producer as well as do the music with Jonathan Visger, co-producer of "Respite." And he's already planning another album.
Asked what he'd like people to take away from "A Brief Respite From Shooting Fish in a Barrel," Hanifi paused before answering: "I want them to like it. And find the lyrical content intriguing, if that's possible."
For more background, see Khalid Hanifi's website. The new album is available electronically at all the major download sites; CDs will be available at Friday's concert and online from CD Baby.
Watch the video for "Free The World to Death":
Bob Needham is director of entertainment content for AnnArbor.com. Reach him at bobneedham@annarbor.com or 734-623-2541, and follow him on Twitter @bobneedham.