Posted on
Wed, Dec 2, 2009 : 5:28 a.m.
DJs find common passion in Ann Arbor Soul Club
By Roger LeLievre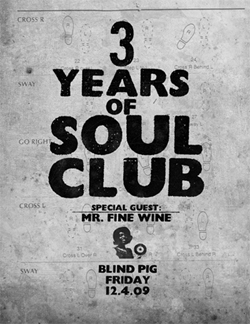 Art by Forest Juziuk, courtesy Robert Wells
A shared interest in soul music brought Robert Wells, a University of Michigan PhD student from Kansas City, and Brad Hales, a Detroit record store owner, together. Out of that passion, the Ann Arbor Soul Club was born.
The Ann Arbor Soul Club is a dance party held once a month at the Blind Pig. The event marks its third anniversary on Friday night, as Wells, Hales and special guest DJs spin a mix of crowd favorites and obscure soul tracks — all from their original, 45 rpm issues.
How obscure? Wells includes artists like Rufus Wonder and the Additions, The Brothers Gilmore and Willie Jones in his current Top 10 list. Hales lists acts such as Gwen Owens, Dee Edwards and Troy Dodds. More familiar performers include The Temptations and Eddie Kendricks.
"We probably play a handful of the same songs most every month; those are crowd favorites people expect to hear," Wells said. "Motown hits, or an artist named Gloria Jones … Shirley Ellis' 'The Handclap Song' … if you come a few months in a row, you get to recognize the songs. But most of it is obscure."
The format includes original Northern soul, songs from Detroit's Tamla-Motown labels, R&B, crossover, and modern soul 45s from the early '60s to the early '80s.
For the anniversary party, Wells and Hales will be joined by Detroit record collector/DJ Breck T. Bunce and Aaron Anderson, a former Detroiter who now lives in Grand Rapids. Also on the bill is guest New York City-based DJ Mr. Fine Wine, who Wells calls one of the biggest soul DJs in the U.S.
The pair said they routinely draw 400 or more people to their Ann Arbor Soul Club nights.
"The night has exceeded both our wildest dreams as far as the response we've gotten and how loyal the crowd has been and just the general vibe of the night," Hales said.
The two met after Wells moved to Ann Arbor six years ago to go to school; he's working on a PhD in Spanish Literature at the University of Michigan. He heard about a store in Detroit called a fan of Ann Arbor Soul Club on Facebook Peoples Records that Hales runs.
Image courtesy Robert Wells
"I was in love with the sound and started to make the 40-minute drive in to Detroit from Ann Arbor at least once a week to go to Brad's store and buy more and more soul 45s," Wells recalled. "I'd go in and buy so much. He could tell I had an interest and was getting turned on to the sound that he liked as well. He had done this funk night for years in Detroit but also had this passion for soul music but didn't have an outlet for it for DJing. That's when we started to do this thing (in Ann Arbor)."
Hales said he and Wells play only the original 45 rpm records — no CDs, bootlegs or digital files.
"The object gives you a kind of connection to that era," he explained. "Some of the songs we are playing there are really treasures. It's literally something you won't be hearing any place else."
Soul nights are an idea that's catching on elsewhere in the country, the two said.
"There's tons of soul and funk nights than ever before around the U.S. That seems like something that's happened in the last 10-15 years as (people) are rediscovering the country's own music," explained Wells.
Hales, who estimated he has 700-800 45s in his collection, agreed.
"The night that we have (at the Blind Pig) is very unique in this country. It's probably the best night of its kind in the U.S., and that's including the bigger cities like Los Angeles, New York, Seattle. It's really special."
So what is it about this kind of music that draws people in?
"It's fun, short, quick, very catchy," Wells observed. "These artists were throwing their whole lives into two and a half minutes. All the strings, all the voices … the lyrical content is always interesting — typically it is life affirming and happy or totally sad or depressed. It spans the spectrum of human emotions. And also it was beautiful voices — people that could really sing."
Like all serious record collectors, Hales has a wish list.
" I think everyone wants to find Frank Wilson's "Do I Love You, Indeed I Do." It's probably the most expensive record out there. If you found that one it would probably go for around $30,000 or so. It was a Motown record that was recalled after they made some test copies. It became an anthem in the Northern soul scene although there are only two original copies of the record."
Both Hales and Wells said the Blind Pig show draws a cross-generational crowd. "We have people who aren't 21 yet, and people who have been on the music scene for years and years, all glad that's going on," Hales said.
"The party is so fun here," he added. "We're very fortunate to be able to have done it for three years. We have had great support — some people have come out for every single one. Anybody who does come dances and is intrigued by the music."
ROBERT WELLS' TOP 10 SOUL 45s 1. Willie Jones - Where's My Money (Mr. Peacock) 2. The Montclairs - Hey You! Don't Fight It! (Arch) 3. Rufus Wonder and the Additions - Under The Moon (Lando) 4. Four Tops - Where Did You Go (Motown) 5. Charlene and the Soul Serenaders - Can You Win (Paradox) 6. The Brothers Gilmore - I Feel A Song (Bantu) 7. Nathaniel Mayer and his Fabulous Twilights - I Had A Dream (Fortune) 8. Cloudburst - I'm Loving You (Stormy Monday) 9. Ivorys - Please Stay (Despenza) 10. The Temptations - Girl (Why You Wanna Make Me Blue?) (Gordy)
BRAD HALES' TOP 10 SOUL 45s 1. Gwen Owens - Just Say You're Wanted (Velgo) 2. The Masqueraders - How (LaBeat) 3. Dee Edwards - Why Can't There Be Love (Bump Shop) 4. Gentlemen Four - You Can't Keep A Good Man Down (Wand) 5. New Holidays - Maybe So Maybe No (Soulhawk) 6. Troy Dodds - Try My Love (El Camino) 7. Karmello Brooks - Tell Me, Baby (Milestone) 8. Eddie Kendricks - Date With The Rain (Tamla) 9. Bobby Reed - The Time Is Right For Love (Bell) 10. Ronnie Love - Detroit, Michigan (D-Town)
Roger LeLievre is a free-lance writer who covers music for AnnArbor.com.
PREVIEW Ann Arbor Soul Club Who: DJs Robert Wells, Brad Hales, Breck T. Bunce and Aaron Anderson. With special guest DJ Mr. Fine Wine. What: Three-year anniversary of this monthly soul music dance party. Where: Blind Pig, 208 S. First St. When: Friday, December 4. 9:30 p.m. (doors). How much: $5 (under 21, $8). Details: 734-996-8555; Blind Pig web site.
Robert Wells guest DJing at Fun City Shingaling in Russia earlier this year: