Posted on
Mon, May 13, 2013 : 2:46 p.m.
Ann Arbor Symphony tickets on sale for next season
By AnnArbor.com Staff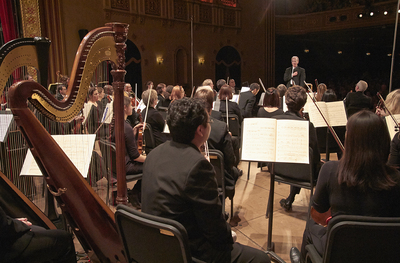 courtesy of the Ann Arbor Symphony Orchestra
The
Ann Arbor Symphony Orchestra
has announced its full schedule for the 2013-14 season, including its regular subscription series as well as a variety of special events.
Tickets are on sale for the subscription season, which opens with a performance of Stravinsky's "Rite of Spring."
The full text of the orchestra's announcement appears below:
The Ann Arbor Symphony Orchestra celebrates its 85th year with an exciting variety of symphonies, concertos, contemporary works, and a delightful opera that will enchant audiences new to the orchestra as well as long-time friends. Classical, Family, and Chamber Recital season subscriptions are now available to hear outstanding performances by Michigan's premier regional orchestra and renowned guest soloists.

Opening Night: The Rite of Spring
September 21, Michigan Theater, Sponsored by the Ray & Eleanor Cross Foundation, MCACA & NEA
The Ann Arbor Symphony Orchestra under the direction of Music Director and Conductor Arie Lipsky, now in his 14th year with the A2SO, opens its season with "The Rite of Spring." Stravinsky's daring piece launched symphonic music, and society, in bold new directions by breaking all the rules - from the very concept of melody to audience expectations. Grammy award-winner Bill Bolcom's Commedia for (Almost) 18th-Century Orchestra and Schubert's classic Unfinished Symphony round out the evening.

Autumn Cellobration
October 19, Michigan Theater
The A2SO is ushering in fall with the rich, warm sounds of Dvorak's magnificent Symphony No. 7. Back by popular demand, Julie Albers plays one of the most challenging cello showpieces in the repertoire - Prokofiev's sinfonia-concertante. This sweeping work for cello and orchestra was dedicated by Prokofiev to Mstislav Rostropovich. Soloist Albers will dazzle you with her fire and finesse. The lush orchestra sound continues with Bartok's Two Portraits, where the listener can hear the unmistakable influence of Debussy along with Bartok's love of his native folk music. The piece features the sublime elegance of A2SO concertmaster Aaron Berofsky.

Winter Dreams
November 23, Michigan Theater, sponsored by the UM Centers of Excellence: Cardiovascular, Comprehensive Cancer, Transplant, and Brehm Centers.
Listeners will take a winter journey with Tchaikovsky's seldom-heard masterpiece, Symphony No. 1, "Winter Dreams." Hear for yourself why the composer himself said this symphony "was better than any of my other more mature works." Glazunov's brilliant Violin Concerto showcases Concertmaster Aaron Berofsky in this work made famous by Jascha Heifetz. Complete your concert journey with Estonian composer Arvo Part's wintry description of icy woods and coastline in his Fratres, which builds to a haunting intensity and passion.

2nd Annual Holiday Pops, Co-Sponsored by Bank of Ann Arbor
December 13
It's a family tradition to gather and enjoy the songs of the season with your A2SO including excerpts from The Nutcracker, and glorious choral music by Measure for Measure. Enjoy the good music-making and merriment of this festive concert - the perfect way to welcome in your holiday season.

18th Annual Mozart Birthday Bash: Cosi fan tutte
January 25, Michigan Theater
Modern movie writers would call this a "Romantic Comedy." We call it pure delight. Celebrate the genius composer's putting it all together - a funny story, beautiful arias sung by great singers, and a message that makes "Thus do all women" an enduring work. Your A2SO become actors in this narrated, semi-staged opera featuring an all-star cast including: sopranos Sarah Hibbard and Lauren Skuce, mezzo-soprano Jennifer Holloway, tenor Charles Reid, bass-baritone David Small, and bass John Shuffle. Narrated by Stephen West, with chorus prepared by Steven Lorenz, the 18th Annual Birthday Bash is sure to sell out.

Beethoven and Beyond
March 22, Michigan Theater
Beethoven himself was the soloist at the Vienna premiere of his Piano Concerto No. 2, nearly 220 years ago this week. A2SO soloist Adam Golka, back by audience demand for a second performance in Ann Arbor, brings the music's sense of drama and playfulness to life. Strauss' famous tone poem Also sprach Zarathustra fills every cubic inch of the Michigan Theater when the mighty Barton organ, installed when the theater was built in 1927, joins the symphony's impressive ranks. Listeners will recognize the music from the Apollo space program and Stanley Kubrick's 2001: A Space Odyssey. The driving beat and melody of modern composer John Adams' Short Ride in a Fast Machine, one of the most performed orchestral works composed in the last 30 years, will shift you to high gear - in less than four minutes.

Season Finale: Brahms Festival
April 12, Michigan Theater, cosponsored by Rebecca Horvath
Each distinguished piece of music at the A2SO's Brahms Festival is packed with emotion, passion, complexity, richness and beauty. From the dashing Academic Overture to MacArthur Genius Award-winner Bright Sheng's hauntingly beautiful full orchestral arrangement of Brahms' Intermezzo in A major - a poignant work originally written for solo piano - you'll hear Brahms' full-hearted voice. Violinist Itamar Zorman, the 2011 International Tchaikovsky Competition winner, pairs with 2008 Naumburg International Cello Competition winner David Requiro in the massive Brahms Double Concerto. Guest violinist Itamar Zorman plays with intensity, integrity, and virtuosity. Guest cellist David Requiro creates a rich and evocative sound. Together, both artists compliment the intensity and emotional range of the Brahms concerto. The A2SO concludes with one of Brahms' best-loved works, Symphony No. 1.

A2SO Chamber Recital Series
Sponsored by CFI Group
October 4, November 1, January 17, March 14, April 18
The A2SO Chamber Recital Series features the finest chamber recital music played by A2SO musicians. These hour-long concerts, open to listeners of all ages, combine fresh sounds of newly minted as well as time-honored classics for wind, string and brass soloists. All concerts are preceded by dessert and coffee. Subscriptions to all five concerts are just $45 and single tickets are $10. Repertoire and musicians TBD and will be posted on a2so.com.

The Benard L. Maas Foundation Family Concert Series
Ann Arbor Symphony Orchestra Family Concerts are specially designed to introduce children and their parents to the wonders of a live symphony concert. Part performance, part family outing, these affordable concerts will spark the imagination of the whole family.

Beethoven Lives Upstairs, part of the Benard L. Maas Foundation Family Series
November 24, Michigan Theater, sponsored by Toyota
Young Christoph is convinced his mother has rented out the upstairs room to a madman! That boarder is none other than Ludwig van Beethoven who is busy composing his Ninth Symphony. The boy and the cantankerously eccentric deaf composer eventually meet and Christoph begins to see the softer side of Beethoven as his music begins to win the boy over. Beethoven's memorable music is magically woven into the play that won an Emmy Award for Best Children's Program. Actors in costume bring the story to life, using funny and true stories about Beethoven, with all music performed by the Ann Arbor Symphony Orchestra.

Sing-Along with Santa, part of the Benard L. Maas Foundation Family Series
December 7, Bethlehem United Church of Christ
Your A2SO has a special relationship with Santa. Each year he sleds down from the North Pole to meet the children of Ann Arbor at our Sing-Along. He loves to read aloud 'Twas the Night Before Christmas, and sing all his favorite carols with the kids. To help remember the fun, a photographer will snap a photo of each youngster with Santa - sent to you in time for Christmas. Cookies and cider will make your afternoon festivities bright. Bassist Erin Zurbuchen will be accompanied by pianist Lori Zupan.

The Planets, part of the Benard L. Maas Foundation Family Series
March 23, Michigan Theater
Bring your lightsabers and come in costume! Discover the universe through music such as Holst's The Planets and Hollywood's Star Wars. Rocket around the stars with Strauss' Also Sprach Zarathustra, best known as the theme from 2001 Space Odyssey, and Mozart's Jupiter Symphony. This concert features special photographs of space and the planets from the University of Michigan's Astronomy space projects.

KinderConcert Series, sponsored by Rotary of Ann Arbor, Downtown Kiwanis Club, David & Stephanie Pyne, and the Ray & Eleanor Cross Foundation
KinderConcerts are free 30-minute concerts designed especially for children 2 to 6 years old. Members of the A2SO join child movement expert and piano collaborationist for a guided introduction to the instruments of the orchestra. Introduce even the youngest listeners to classical music at your local libraries. Concerts are September 20, 21, 30, January 10,11, 13, and May 9, 10, 12 at the Ann Arbor District Library, Ypsilanti District Library and Dexter District Library. To learn more about how you can schedule free KinderConcerts at your library email info@a2so.com.

Annual Youth Concerts
March 19, 2014, Hill Auditorium
Each year, nearly 5,000 students attend Youth Concerts at the Ann Arbor Symphony Orchestra. In 2014, students will discover the universe through music such as Holst's The Planets and Hollywood's Star Wars. Open to public, private, parochial, and home schools, these concerts offer a comprehensive educational experience that enriches in-school learning. Hill Auditorium presents itself as a unique classroom, where special performances by the A2SO combine the thrill of live music with key educational concepts. Participating teachers receive access to resource materials which include lesson plans, music selections, and a CD of all music to be performed. The programs are geared toward elementary grades three through five and meet all state and local academic standards, lending themselves to integration with other curriculum areas, such as language arts and social studies.

18th Annual Hearts for the Arts Fundraiser
February 8, 2014, Barton Hills Country Club
Join the A2SO for the 18th annual Hearts for the Arts gala. This very special event raises money for the educational and artistic programs serving over 30,000 young people in a five-county area. A long-time favorite of symphony and community arts supporters, the evening boasts a champagne reception and silent auction, an elegant dinner, and a spectacular live auction of exciting trips and one-of-a-kind packages. The 17th annual Hearts for the Arts set a new record, raising over $80,000 to introduce even more children to the joy of live symphonic music.

To order tickets for what promises to be the greatest season yet, call the Ann Arbor Symphony Orchestra at (734) 994-4801 or email tickets@a2so.com. Tickets are also available online at www.a2so.com or can be purchased in person or via post at 220 E. Huron, Suite 470, Ann Arbor, MI 48104. Classical subscriptions start at $48. First time subscribers can buy one season subscription and get one FREE! Senior, student, group, and community discounts are also available.