Posted on
Tue, Aug 28, 2012 : 5:08 a.m.
Ann Arbor will be 'Dancing in the Streets' again this weekend
By Jennifer Eberbach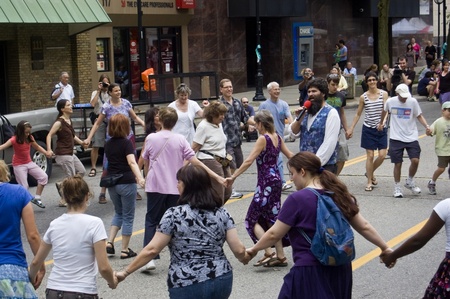 AnnArbor.com file photo
What began as a successful attempt at a Guinness World Record for the longest contra line dance, 15 years ago, has become one of Ann Arbor's favorite late-summer events.
Dancing in the Streets, an annual one-day festival of traditional music and dance, returns the afternoon of Sunday, Sept. 2, on parts of Main Street and Washington Street. You are invited to dance smack dab in the middle of downtown Ann Arbor.
Four different areas featuring dance groups and musical performances cover a wide variety of traditional forms—international, concert, swing, and Anglo-American—will stretch down Main Street, between Liberty and Huron, and down parts of Washington. Local dance instructors will be teaching lessons throughout the event. Dancing is more than strongly encouraged. Participation is the point.
"It's a true community event for Ann Arbor where participation is key," says Peter Baker, a founding lead organizer on the event and member of the Ann Arbor Community of Traditional Music and Dance, the non-profit membership organization that hosts the event.
"Our focus or mission is to provide opportunities for people to participate in all genres of dance, whether that's swing, international, American, concert music," he says. For him, it is all about "bringing the community together in joy."
Baker also sees it as a premier opportunity "for people to be exposed to traditional music and dance in a way that is different from seeing performers on stage at a concert," he says. "It's a more intimate opportunity to interact with a performer than a performer being on stage and you sitting in the audience."
The family-friendly event will also include activities to keep the kids happy. A craft area will make art supplies available, which the kids can get into any time during the afternoon-long festival. And an "instrument petting zoo" will let kids check out a bunch of different instruments and play around with them in an unstructured environment.
As origin stories go, the festival's is unique. It all started with the world record attempt, a more-than-800-person contra line down seven blocks of Main Street. However, as Baker tells it, there were even more people there.
"The dance had to be 5 minutes long, and all the people had to be counted in those 5 minutes. Tickets were issued to all the dancers," which gave Guinness the final count, "but there were probably closer to 1,000 people there," he guesses. So it goes. Guinness lists the current record holder as a Latvian folk group named "Vector" from Riga Technical University, who gathered 2,208 participants in 2008.
Baker gives credit to a lot of people for making the event happen. "Debbie Jackson was the one who had the idea to go for a world record. She said, let's do the world's longest contra line in a parking lot. Then I said, let's do it in downtown Ann Arbor. There were a lot of instrumental people who were involved in AACTMAD. The city has also been a real partner on this from the beginning, as well as downtown businesses who give their support in a variety of different ways," Baker says.
"Mark Hillegonds put together an amazing schedule this year," Baker says. "And there are so many others, I'm sure I can't name them all," he says.
While some of the performers and dance lesson instructors who are participating in Dancing in the Streets this year are AACTMAD members, the event is open to anyone. In general, it is an opportunity to bring the traditional music community together, across all affiliation lines.
Most firmly at its core, "The event is a coalescing, a coming together, of the traditional groups that put on this event. And the network is ever expanding," Baker says.
It is also very much "an outreach event for AACTMAD," Baker says. The group regularly hosts events and serves as a membership organization for the local traditional dance and music community. "This event is cooperative between the city, businesses, and different dance groups located in and around Ann Arbor. And we are like the container that allows this to happen," he explains.
A particularly nice thing about the event, according to Baker, is that it is very female friendly. "A lot of women find it to be a safe environment where they can come and be with the community and dance without feeling like they are being leered at or that dancing with someone comes with certain expectations," he says.
"AACTMAD tries to promote healthy fun and a chance to be in community without any strings attached."
It's not just the ladies who do not need to fear dancing in public at the festival, according to Baker. "Anyone might shy away from dancing in public, but this is truly a community dance. You don't even need a partner to do it. It's a community activity that everyone should feel comfortable participating in," Baker says.
Schedules by stage:
Concert Area (South Main): 2:00 - 2:50, The Millers with Sheila Graziano (old time string band with clogger); 3:00 - 3:45, Annie and Rod Capps (singer songwriter); 3:55 - 4:40, Joel Palmer and friends (singer songwriter); 4:50 - 5:35, Katseye (traditional and original songs with harmony); 5:45 - 6:30, Carol Kappus and friends (Irish/Scottish music on harp and other instruments).
International Area (North Main Stage): 2:00 - 2:45, Middle Eastern Dance Performance by Troupe Ta'amullat; 3:00 - 4:00, International Folk Dance; 4:15 - 5:00, Belly Dancing; 5:15 - 6:30.
Cajun Dancing. Swing Area (West Washington): 2:00 - 3:00, Ballroom Lessons; 3:30 - 4:30, East Coast Swing Lessons; 4:45 - 6:30, Swing music and dance.
Anglo-American Area (East Washington Stage): 2:00 - 3:00, Family Dance; 3:15 - 4:00, Scottish Country Dance; 4:15 - 5:15, Contra Dance; 5:30 - 6:30, English Country Dance.