Posted on
Tue, Mar 5, 2013 : 10:26 a.m.
Ann Arbor Women Artists enjoy new HQ, exhibit art at Ypsi Library
By Jennifer Eberbach
In their 62nd year, Ann Arbor Women Artists (and a few good men) have a new lease on life—literally. The non-profit art organization signed a lease to their new studio and meeting space. From the sound of it, the large membership hopes that their new headquarters, located at 4844 Jackson Road, Suite 100, will become "a major hub" of creativity in Ann Arbor.
That is what Katherine Willson, the past president and current historian of AAWA, says she hopes for. She shared her thoughts about AAWA and their new space with AnnArbor.com upon a visit to the AAWA's "Winter 2013 Juried Exhibition" which you can visit at the Ypsilanti District Library's Whittaker Road branch until March 15.
One way AAWA promotes local artists is by hosting such exhibitions throughout the year. The juried and non-juried shows give members visibility. Artworks by 37 members are on display at the "Winter 2013 Juried Exhibition." It offers a nice survey of the art that some of the most active members are making.

Landscapes are particularly prevalent in the exhibition. In fact, most of the winning artworks and honorable mentions are landscapes. However, the show also includes portraiture, photography, digital art, abstract pieces, and other 2D artworks. Artworks where selected by photographer
Steven Coron
, head of the Visual Arts Department at Community High School, and his wife
Karin Wagner Coron
, a landscape painter. The couple own Format Framing and Gallery.
Jurors awarded first place to Marty Walker for her painting "Morning Landscape." She seems pleased I caught her trick. From afar, the acrylic brush strokes seem to form mountains covered in fresh snow. But as you approach it, the lines become white pillows and a wrinkled bed sheet. Colors within the whiteness suggest light bouncing off objects in the room.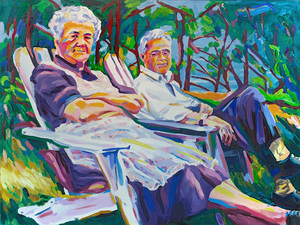 2nd place winner
Bill Knudstrup
painted "Elma and Clyde," a portrait of his maternal grandparents based on a photography from 1955. "Painting family members helps me to connect with memories and emotions" and also address "family issues," he says. "Elma was a very strong/controlling woman. Clyde was very kind but died soon after my source photo was taken," he wrote in an email.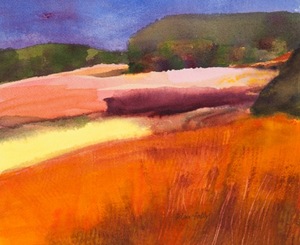 Winning 3rd place,
Helga Haller's
painting "October Evening" abstracts a landscape she saw near Traverse City. Large swaths of color, in thickly applied watercolor paint, form the impression of an orange and pink field, green trees, and a blue sky. "I'm attracted to farmlands and wide open spaces and enjoy the geometric interplay between fields, roads, woods and sky," she wrote in an email, adding that the "larger swaths allow me to paint in a more gestural, expressive way. That allows me to communicate what I felt about that scene without going into fussy details," she explains.
Honorable mentions went out to 4 different landscapes, Vickie Peterson Michalak's digital mixed media artwork "Lifelines Landscape I," Barbara Boyce's snowy aerial view "Approaching Bismarck in the Snow," Carolyn Weins' "Beach Brush" pastel and Janet Kohler's pastel field in "Distance Among Us."
You can vote for the "People's Choice" when you visit the exhibition. The winner will be announced after the show closes, March 15.
AAWA's new headquarters has allowed for 10 art studio spaces, room to hold critique groups or workshops, and a place to host special events and presentations such as artist talks. Many members also belong to groups like the Ann Arbor Area Pastelists, Chelsea Painters, a Plein Air Painting group, and others.
Willson says non-members will benefit from having the art space as well. Outside groups are already contacting them about renting time slots for things like meetings or other gatherings.
Before the move, AAWA frequently used The Ann Arbor Art Center as a resource. The organization originated there, in 1951, "when a small group of women who met regularly decided to form a study group," Willson, the group's historian, explains.
AAWA is hosting an open house at their new headquarters on April 6, from 6:00 p.m. to 10:00 p.m. to show the public what they are all about.
"What we are really hoping is that it will become a hub for arts in Ann Arbor," Willson explains. "We decided to find a place with affordable rent that could be a new center of activity for the Ann Arbor Arts Community," she says.
The Ann Arbor Women Artists exhibit continues at the YDL-Whittaker, 5577 Whittaker Road, through March 15.