Posted on
Fri, Nov 11, 2011 : 11:58 a.m.
Ann Arborite's video details cross-country hitchhiking trip
By Bob Needham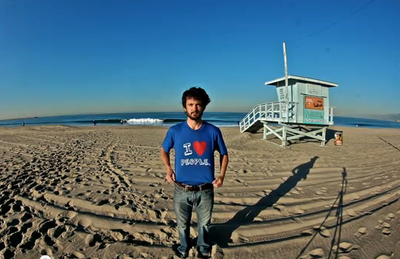 Benjamin Jenks
of Ann Arbor
really
likes to travel.
He spent a year hitchhiking around the United States, and for the last section of the trip, he undertook a special project: hitchhiking all the way across the country, documenting the journey with photos taken with people he met along the way. He then compiled the photos into a video.
The video showcases Jenks' travel website, AdventureSauce.com. And it became an amazing record of his travels: as he describes it, "5,000 miles, 3,000 photos, 930 people, 162 seconds." (Watch the video at the end of this post.)
Jenks, 31, was born in Carson City, Mich. "I lived in Ann Arbor for almost one year after my hitchhiking trip," he told AnnArbor.com in an email. "I moved here because my Nana, my aunt, and some other family members live in the area."
Jenks agreed to answer some questions via email about his experience:
Where did the idea to do this come from?
I was partially inspired by Jack Kerouac's travels, part inspired by Stephen Newman, who walked around the USA because he thought that people were better than the media gave them credit for, and part from my own experience with have a crappy car. I would have to hitchhike a lot and things always seemed to turn out better than if my car had gotten me where I wanted to go.
How did you choose the exact route?
I would wing it mostly. I started in Virginia originally (the video starts 9 months into my travels) and then wanted to visit my family in Michigan so I headed that way. Then after that I decided I wanted to see the leaves change in the Northeast so I headed that way. I would just choose the next destination or have a place to shoot for because a friend lived there (San Diego) or I wanted to do something (like celebrate Halloween in New Orleans). I also would ask the locals for suggestions and they would influence where I went next.
Did you travel alone?
Yeah, 98 percent of the time. I hitchhiked with a guy I met through the website Couchsurfing.org. That was fun, but we're really different and it was tough to have to compromise, after I had spent so long doing exactly what I wanted to do.
It seems like hitchhiking has almost entirely died out. Is it a regular part of your life?
It is now. I really, really enjoy it. It is the best way to travel. You meet friendly people, who want to show you around. It is an adventure at all times. Usually it is fun and you just never know what is going to happen. I'm traveling around the world now and plan to hitchhike as much as possible.
In general, how willing were people to pick you up?
I'd say about 5-10 percent would pick me up, if I was standing in a good location. I've been picked up by the first car that drove past (in New Jersey of all places) and had to wait 17 hours (in the desert of California on the way to Las Vegas). There is a significant minority of people (usually people who have hitchhiked in the past) who will pick up a hitchhiker. I tried to maximize my rides to by looking respectable, looking people in the eye, smiling, being confident, and even pointing in a friendly way at cars.
Did it seem like there were any regional differences in attitudes about hitchhiking?
Yeah, although it is tough to say. Most noticeably big cities are the worst. People are so surrounded by people, busy, and stressed that you could wait a long time. I was worried about the South and Texas especially, but had great success in those places. If the area had people who were "outdoorsy" then this helped a lot.
Did you ever accept a ride and wish you hadn't?
Nope, nothing dangerous happened. There were a few weird rides, but nothing weird enough that I wouldn't have taken it. I learned to screen my rides pretty well after I had an incident in North Carolina. In a past trip, I ... could sense something was fishy from the very beginning. Now I don't accept fishy rides. I did have some really strange folks—like the con-man in Mississippi, the guy who had sex with his dog in Texas, and the other guy, who kept telling me about a lucky hitchhiker named, Chet, who would model in his underwear for money—but all that comes with the territory, I guess. I am hitchhiking. :)
Was this done in one single trip or several? How long did it all take?
One trip. The whole trip was almost a year. I went over 14,000 miles around the USA. The video was made the last 3 months of the trip as I went from Los Angeles to Portland, Maine, but that was just one section of the trip.
Where did you stay along the way?
I would stay at friends places about 1/3 of the time. I would camp out in forests (or anywhere) or would get invited to stay with people really about 1/3 of the time. Then, I used the website Couchsurfing.org to find places to stay about 1/3 of the time.
What equipment and software did you use to create the video?
I shot the photographs with my Nikon d70 (a beginners SLR) and used a fisheye lens (Tokina 10-17mm). I edited the photographs in Adobe Lightroom and used an open source "Photoshop-like" piece of software called Gimp to edit the photos as well. Then I edited the movie together and put in music in Final Cut Pro X.
What are your goals/hopes for the Adventure Sauce website?
I hope to inspire others to go after their own dreams and to offer practical information about how to travel cheaply, yet awesomely. I have learned so much from traveling that it really makes me happy to help others follow their own travel dreams.
Do you have a "regular" job? If so, what?
I don't now (I may have to if I don't make money soon). I took some money out of my 401k from a previous job to buy myself my gear and get me started. I need to make money as I go and have some ideas on how to do this.
What's next for you?
I'm heading up to the Banff Film Festival to watch some other adventure travel films then am heading down the West Coast. I'll be meeting more people and taking people on adventures as I made videos about them.
Anything else you want to say?
My Nana has been a big inspiration for my travels. As a kid, she took me to Europe and since I have been always looking for more.
Here's Jenks' video:
Bob Needham is director of entertainment content for AnnArbor.com. Reach him at bobneedham@annarbor.com or 734-623-2541, and follow him on Twitter @bobneedham.