Posted on
Thu, Jun 20, 2013 : 11:28 a.m.
Ann Arborite Yasamina Kabisch competes on new TNT adventure reality show, '72 Hours'
By Jenn McKee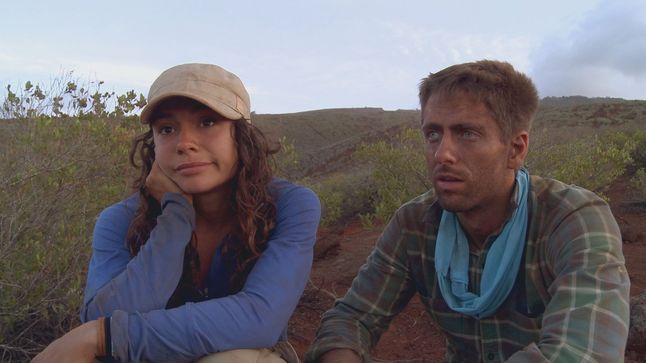 Photo provided by TNT
Ann Arbor native
Yasamina Kabisch
- who will appear on the Friday, June 21, 10:15 p.m. episode of the new TNT adventure reality show
"72 Hours"
- loved the idea of being dropped off in an unknown location in the wilderness with two strangers for teammates; one bottle of water to share; and a GPS.
Together, the three would compete against 2 other teams to find a briefcase packed with $100,000 within, you guessed it, 72 hours.
"I think the question to ask is, 'Why wouldn't that appeal to me?'" said Kabisch, 26. " … I don't know that everyone would be interested in having that experience, but in my mind, I thought, 'My God, this would be an incredible experience - to be put into who knows what environment with two other random people, and have teams of people that you're competing against, and to have to survive and have to coexist - it seemed like the opportunity of a lifetime to me. One of those things that, of course I'm going to do it."
Kabisch - now a personal trainer, personal chef and Muay Thai fighter living in North Hollywood - lived in Ann Arbor from the time she was 7 to 20 years old; she attended Pioneer High for a year, as well as other area schools, but ended up in a home schooling program while she pursuing, and dealing with knee injuries related to, competitive running.
"I had been approached about participating in ('72 Hours') when they were looking to make the show happen, and at first, it wasn't necessarily going to be for TNT," said Kabisch. "It was just up in the air. A pilot. … I had gone in for an audition about a year earlier, and out of blue, they called me and said, 'Hey, are you still interested in participating, and I said 'Of course.' Actually, I probably said 'Hell, yes,' and I went in for another audition, and they cast me for the show."
Kabisch's episode, which was the first one to be filmed (though it's the third episode that's being aired in the series), was shot in late March.
"I didn't really put a lot of thought into, 'How can I be prepared?'" Kabisch said. "I was just ready to go for it. … They really don't tell you a lot. … So you don't know much of anything. I was sitting there for probably about a month once I heard everything was still moving forward, not having any clue what would happen next with my life, and just trying to make it so I'd be able to participate in terms of my job."
Kabisch ended up traveling to the Hawaiian island of Lana'I, and she had to negotiate abandoned beaches, dense brush, steep canyons and scorching flat lands with her teammates Andrew, a 22 year old waiter from St. Louis, and Mike, a 27 year old conservative radio host from Syracuse.
"We had a really great team," said Kabisch. " … We really worked well together. There were difficult times, but there was an interesting dynamic between us, and we were the least dramatic team, out of all the people that participated. … We got along really well."
How did sharing a single water bottle go?
"I am a really competitive person," said Kabisch. "I know that's one reason why they chose me for the show, and really, in my mind, I probably wasn't always so interested in taking care of myself, because I wanted to make sure my teammates were OK, and I would put myself on the backburner, because in my head, I'm built so strong that nothing's going to break me down. So whether or not I'm a little dehydrated, I'm fine. So yes, we had this water, but I remember very clearly allowing my teammates to drink a little bit more, or with whatever food we had, to eat a little bit more, and I was just determined to get through it. So at the end, I definitely started to feel it, started to feel the dehydration, started to feel things kick in."
Kabisch had such a positive experience overall, though, that she felt empowered when it was over - perhaps a little too empowered.
"I participated in a (Muay Thai) competition as soon as I was done (with the show)," said Kabisch. "Literally 3 days after I got back from Hawaii, I participated in a fight, which was insane, because my body was just depleted in every way. … But I'd really felt like, after my experience (with '72 Hours'), I was on top of the world, so I was like, 'Hell, yeah. Bring it on. I'm going to do it.'"
Jenn McKee is an entertainment reporter for AnnArbor.com. Reach her at jennmckee@annarbor.com or 734-623-2546, and follow her on Twitter @jennmckee.
PREVIEW
"72 Hours"
What: On this new TNT adventure reality show, personal trainer Yasamina Kabisch - who grew up in Ann Arbor and now lives in North Hollywood, California - is dropped off with two teammates she's just met, one bottle of water, and a GPS on the Hawaiian island of Lana'i. Together, the three must navigate abandoned beaches, dense brush, steep canyons and scorching flat lands to locate a briefcase full of cash ($100,000) before two other teams of 3 find it, all within 72 hours.
When: Friday, June 21 at 10:15 p.m. on TNT