Posted on
Mon, Nov 26, 2012 : 10:19 a.m.
Ann Arbor's Andrew W.K. claims he's been named U.S. cultural ambassador to Middle East
By Jenn McKee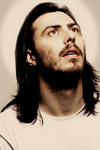 Update: Andrew W.K.'s speaking invitation in Bahrain revoked
The Huffington Post reported what seemed like bizarre news on Saturday: that according to rock star and Ann Arbor native Andrew W.K.'s website, the U.S. Department of State named the musician "Cultural Ambassador to the Middle East." (The news seemed all the more dubious as W.K. wrote, "I feel very privileged and humbled by the chance to represent the United States of America and show the good people of Bahrain the power of positive partying." Hmm.)
This morning, the HuffPo story was updated, after an "unnamed communications staffer in the State Department told (the New York blog Brokelyn) that they had not heard of the singer's 'new post.' HuffPost is in the process of confirming." Brokelyn claims the whole thing is a hoax.
W.K., whose real name is Andrew Wilkes-Krier, also states on his website that he plans to arrive in the Middle East during the first week of December and visit elementary schools, the University of Bahrain, music venues and more.
Check out a September AnnArbor.com interview with Andrew W.K. here.