Posted on
Tue, Nov 6, 2012 : 5:54 a.m.
Ann Arbor's Bill Edwards will offer new tunes, vamp it up a bit, at Saturday night CD release show
By Roger LeLievre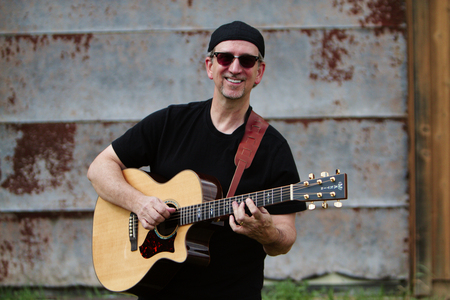 Local singer-songwriter
Bill Edwards
, co-writer of a tune featured on HBO's vampire hit "True Blood," has a new album out and a show coming up at Canterbury House on Saturday.
"What'd I Do?"—co-written with former Ann Arborite Whit Hill—was heard on "True Blood" last season. He'll perform that song and more as he celebrates the release his fifth full-length CD, "My Kind of Crazy," with Dave Hendrickson of the Jill Jack Band on bass and Detroit jazz/blues percussionist Dave Marcaccio on cajon/djimbe.
Scott Neubert, a Nashville-based singer/songwriter and musician who played on Edwards' album, will open the show.
"This is the one I am most proud of … I really feel like this captures what I am about," Edwards said of the new disc. "It's kind of eclectic—there's a few different kinds of music on there. There are love songs, and humorous songs and serious reflective songs … it really reflects where I am in life. I have a loving wife, so I've got some love songs. I like to think I have a pretty good sense of humor, so there's some humorous songs on there. And some serious songs too."
Edwards, who makes his home in Ann Arbor and is a software engineer by day, divides his time between here and Nashville. A 1990 winner of a Billboard magazine country music songwriting contest, Edwards admitted he'd never seen "True Blood" before the song was used on the show, but Hill had. "When I told Whit that we had the placement, she freaked. She's a big fan," he recalled.
Edwards' songwriting skills were sharpened during his years with the East Coast band Blaze, and fine-tuned through many solo performances at Nashville's legendary Bluebird Cafe as well as at The Ark in Ann Arbor. He's also played the annual NashBash locally as well as an outdoor show for AnnArbor.com.
PREVIEW
Bill Edwards
Who: CD release party from this award-winning singer/songwriter who divides his time between Ann Arbor and Nashville.
What: Folk-country.
Where: Canterbury House, 721 E. Huron St.
When: 8 p.m. Saturday, Nov. 10.
How much: $5-$10. Info: www.canterburyhouse.org or 734-665-0606.
Growing up the son of a minister, Edwards' family moved frequently, living in Michigan, Illinois and New York state.
"When I was a kid we always went to Cape Cod for camping vacations and one year we went into Wellfleet, Mass., and there was a folk concert going on … I was completely captivated," recalled Edwards. "I pestered (my parents) for a guitar from the Sears catalog for Christmas—a Sears Silvertone, which was essentially unplayable—and I'm still captivated by it (after) all these years."
Edwards, 63, said he started out in the James Taylor era as a singer-songwriter.
"I went from that to bluegrass and country, played in a bunch of country bands. Then I was lucky enough to win the Billboard song contest. At that point I didn't really understand that songwriter was a job description," he said.
"One of the pieces of the prize was a song publishing contract in Nashville," Edwards continued. "So I followed up on that and got involved in the whole Nashville songwriting business and pursued that pretty hot and heavy for a number of years. More recently I decided what really floats my boat is performing and singing, so I put together a little trio and have been doing a lot more shows around the Michigan area."
He said he met Hill—who he hopes will be able to come to Canterbury show—at an Ark Open Stage through a mutual friend. "We started doing a biweekly get-together to trade and critique songs, we started writing together a little bit, and started going down to Nashville together."
Hill has nothing but praise for Edwards, whom she calls "a monster songwriter.
"His songs go right to the heart of his subject and illuminate common truths about love and life," she added. "His masterful guitar playing straddles the line between traditional and contemporary country. He makes it all seem effortless."