Posted on
Mon, Sep 12, 2011 : 5:57 a.m.
Ann Arbor's Danny Mooney reflects on directing his first feature film, 'AWOL'
By Jennifer Eberbach
Local Ann Arbor director and actor Danny Mooney recently wrapped filming "AWOL," a coming-of-age love story set against the backdrop of Vietnam-era Ann Arbor. The feature film was shot in Ann Arbor, Ypsilanti, Plymouth, and Inkster this summer. As "AWOL" goes into post-production, the U-M and Pioneer High School graduate reflects on what it was like to direct his first feature-length movie, which he says is his "biggest project to date."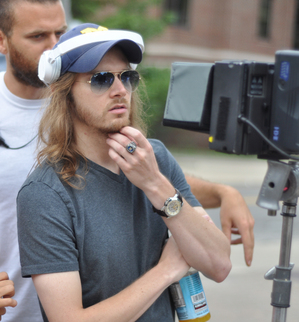 The screenplay for "AWOL" is the brainchild of U-M screenwriting professor
Jim Burnstein
, who is also vice chair of the Michigan Film Office Advisory Council, and his L.A.-based partner
Garrett Schiff
. Mooney first met Burnstein through a film class at U-M. However, it wasn't until years later that plans to make "AWOL" came to fruition.
In the meantime, Mooney had teamed up with fellow U-M film graduate Eddie Rubin to start their production company, Deep Blue Pictures. They made short films, commercials, music videos, and other types of productions over the years. They were on the lookout for a good feature-length script.
They first approached Burnstein about producing one of his scripts when they were both still in college. Then a couple of years down the road, "we were shooting a music video for Kanye West's artist Big Sean, and we needed someone to play a professor. Jim ended up doing a little cameo. Again, we asked him for a script to make. I had graduated by then, but Eddie was still in school. Jim said, when he graduates, call me," Mooney recalls.
The promise was kept. As soon as Rubin graduated, they all sat down together. "Jim put the script for "AWOL" down on the table and said, if you can pull the sword out of the stone on this one, then it's yours to do," he says.
"We put all of our ducks in a row, and we've been off to the races the last couple of months," Mooney says. "AWOL" was produced by Pat Olson's Peninsula Films, Chip Diggin's Red 56, and Deep Blue Pictures.
In the film, a young Vietnam soldier (Austin Stowell) goes AWOL with his best friend (Liam Hemsworth) to win back his ex-girlfriend (Aimee Teegarden).
Mooney thinks "AWOL" is "one of the most beautiful stories I've ever read. There is a backdrop of the Vietnam War behind it, but the focus is really the love story and adventure of it all. It's about young people making decisions that will impact their lives forever."
"The vast majority of the movie is set in Ann Arbor and the University of Michigan in 1969, where there was a tense anti-Vietnam War movement and so many progressive thinkers. It was such an interesting time in Ann Arbor's history," Mooney explains.
Mooney's career in show biz started young. Acting came first, when he joined up with an improv comedy troupe at Pioneer High School his junior year. Later on, he even took at stab at doing professional stand-up. His last stand-up gig was opening for Dave Coulier and J. Chris Newberg at Mark Ridley's Comedy Castle in Royal Oak. Nowadays, you can keep an eye out for him in some of the movies that have been shot in the Ann Arbor area in the last few years. Drew Barrymore punches him in the face in her film "Whip It," and he recently acted in the upcoming films "The Five-Year Engagement" and "Ides of March."
As a U-M student, Mooney started out studying engineering but switched to film. "That's where the behind-the-camera stuff started. I started shooting everything I could and learned about lights, cameras, and editing. I did a bit of everything because I had to see what all of the building blocks of making a movie were before stepping into a directing role," he says. During college, he made and acted in dozens of shorts, winning numerous awards from the U-M's "Lightworks" student film festival.
In another project, Mooney and Rubin are associate producers on the upcoming feature film "Sucker," "a fun, comic-bookish type of movie," which he says is finishing up post-production.
"AWOL" will "hopefully be finished sometime next year. We are editing right now, which is a super long process," Mooney reports. After that, who knows. "We are so focused on editing "AWOL" right now. When that's done, we'll look for what we want to do next," he says.