Posted on
Tue, Aug 27, 2013 : 9:40 a.m.
Ann Arbor's Hoodang, Saturday at Crazy Wisdom, walks on alt-country's dark side
By Roger LeLievre
For close to a decade, the Ann Arbor threesome Hoodang has been making fans with its blend of dark, driving, off-kilter alt-country music. The band writes songs of people tarnished by bad blood and bad luck who still find ways to make it through to the next town, day, marriage, con or bottle.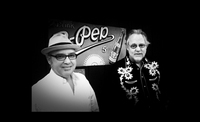 Hoodang's lead vocalist and main songwriter is
David Rossiter
. Joining him are
Dave Keeney
on lead guitar,
Ralph McKee
on bass and
John Crawford
on percussion.
The band played the most recent Nash Bash, and has a new CD, "Hoodang: Out With a Bang," coming in September.
Blending fingerstyle acoustic guitar sound with a bass, electric guitar, and percussion, onstage Hoodang's comfort zone is a spontaneous edge that plays off the moment, the mood, and the room.
If you are a fan of Fred Eaglesmith or Steve Earle, you'll probably like Hoodang just as much.
Hoodang performs at Crazy Wisdom Bookstore and Tearoom, 114 S. Main St., Saturday, Aug. 31 at 8:30 p.m. Admission is free. Details at www.crazywisdom.net or 734-665-2757.