Posted on
Sun, Nov 25, 2012 : 5:41 a.m.
Ann Arbor's Michael Hodges' new book looks at 'Michigan's Historic Railroad Stations'
By Jenn McKee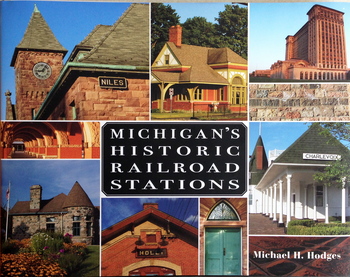 Though Ann Arbor's
Michael H. Hodges
—an art and architecture reporter for the Detroit News—spent two years compiling a new coffee-table book called "Michigan's Historic Railroad Stations" (Wayne State University Press), he didn't visit any of the stations by train.
Instead, he traveled in summertime, on weekends and vacation days, by car. In the book's preface, he described these ventures as "giddy seasons spent crisscrossing the state, windows down, iPod on, poking into unknown little towns, searching, sometimes high and low, for railroad tracks that may or may not have been removed."
And while you might think this sounds like a somewhat lonely quest, Hodges said, "It was stupid fun."
"I took all the photographs first. And then later, I'd go back again to do the research and the writing—which reflects what I didn't really want to do," Hodges joked.
Hodges' longtime passion for architecture took root during his six years as a Cranbrook School student; and in 1997, he and a Detroit News photographer decided to profile a homeless man named Catfish who was living in Detroit's huge, abandoned Michigan Central Station.
PREVIEW
Michael H. Hodges, author of "Michigan Historical Railroad Stations"
What: Lecture and slideshow focused on the functional and stylistic evolution of the train station over the 19th and 20th centuries, and the range of styles architects employed to both tame and exalt rail transportation. Hodges will also sign copies of his new book, "Michigan Historical Railroad Stations."
Where: Downtown library multipurpose room, 343 S. Fifth Ave. in Ann Arbor.
When: Wednesday, Nov. 28, 7-8:30 p.m.
How much: Free. 734-327-4200 or www.aadl.org.
"That certainly got me interested in the Detroit station in a big way," said Hodges. "But what really planted the seed (for the book) was my love for architecture of many different styles and periods. And three years ago, while looking at the adorable little train station in Chelsea, I thought, 'People like train stations.'"
Indeed. A sense of nostalgia and adventure and freedom inevitably inhabit old train depots, but initially—as Hodges notes in his book—a train station "necessarily acted as more than just a shelter and a way of organizing traffic. It was intended to string a hazy, reassuring scrim between the public and the belching monster on the far side of the street façade—a stage set meant to muffle the shock of the new and, inspire confidence and trust."
Although Michigan was reportedly home to more than 400 train stations, as of the 1970s, Hodges narrowed his focus down to 31 stations (including Ann Arbor, Dexter, Chelsea, and Ypsilanti), based solely on the architectural criteria.
"That was the only thing that interested me, was, 'Could I get some good pictures of this? Does it have some visual punch?'" said Hodges. "Shepherd, for example, just has this very simple shed, but it's graceful, and has these unexpected woodwork touches that are beautiful."
Hodges considers himself an architecture evangelist, urging people to look more closely at their surroundings.
"I've always been oversensitive to groups of buildings, and the spaces between buildings, and the mood that creates," said Hodges. "A lot of people feel that way about interiors, like kitchens and living rooms.
"We're socialized to think in those terms, but we don't think about exteriors in the same way. … So I'm always trying to get people to just stop and look at the buildings around them. I think if more people did that, we'd be better people."
Jenn McKee is the entertainment digital journalist for AnnArbor.com. Reach her at jennmckee@annarbor.com or 734-623-2546, and follow her on Twitter @jennmckee.