Posted on
Wed, Dec 2, 2009 : 5:56 p.m.
Ann Arbor's Robert Pratt left a rich musical legacy
By Roger LeLievre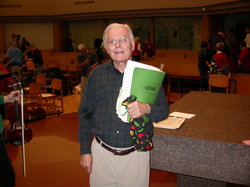 Longtime Ann Arbor music educator
Robert Pratt
, 83, died Tuesday in Jackson. He had been battling cancer for the past six months.
For 25 years, Pratt was chairman of the music department, director of choral activities and founder of the music history portion of the humanities program at Pioneer High School. His name is listed on the Ann Arbor Public Schools' Roll of Honor.
He was also involved in a host of local musical endeavors, and conducted the annual Community "Messiah" Sing from 1988-2007.
"We all just loved him," said Melody "Meg" Gower, organizer of the event. "He was a fabulous conductor, sharing his joy and enthusiasm with the music."
Long active in church music, Pratt was director of music at Ann Arbor's Zion Lutheran Church and conductor of the Chancel Choir at the First United Methodist Church. He was the founding conductor of the Plymouth Oratorio Society and also conducted the Ann Arbor Cantata Singers.
His involvement with the Youth for Understanding Chorale from 1964-73 led to 10 tours of Europe and South America, appearing in major concert halls and on radio and TV. After the chorales ended, Pratt and his wife, Mary, spent a sabbatical year in Brazil studying Brazilian culture and music and conducting and teaching. He conducted a reunion concert of the Youth for Understanding Chorale in June 2008.
He received his degrees from Oberlin College Conservatory of Music and the University of Michigan School of Music.
"He was the choral conductor when I was at Pioneer," recalled Mary Steffek Blaske, who is now executive director of the Ann Arbor Symphony Orchestra. "He trained (Huron High choral director) Richard Ingram, he trained (Pioneer High choral director) Ken Westerman — he was just the best teacher. His legacy is living on with these people teaching at our schools today."
Westerman said Pratt "is fondly remembered by 18 years of singers at Ann Arbor High School and Pioneer High School. …I have credited him with much of our methodology and drive and success. Certainly a lot of our emotional connection to what we do came from his passion."
"Being in choir with Bob always set a high standard and he chose a challenging repertoire," Ingram observed. "It really gave me a good model and certainly provided me with an idea of what a program could be like with a knowledgeable person at the helm."
A member, song leader and past president of the Ann Arbor Rotary Club, Pratt was designated an Honorary Paul Harris Fellow, Rotary's highest award, and was recently honored with emeritus status.
Ingrid Sheldon, Rotary past president, former Ann Arbor mayor and former student of Pratt's, said she is saddened by Pratt's passing.
His legacy will be as a music educator "who recognized the value of music and fine arts and the education of the whole child, as well as being a real leader in musical education, especially for high school youth," Sheldon added.
A private service for family has already been held. A memorial service is planned for early January at First United Methodist Church in Ann Arbor, where he had been a conductor for a number of years. Those arrangements, including the date, are incomplete.
He is survived by his wife Mary, three children, 10 grandchildren and 8 great-grandchildren.
Roger LeLievre is a free-lance writer who covers music for AnnArbor.com.