Posted on
Thu, Apr 26, 2012 : 11:01 a.m.
Ann Arbor's State Theatre marquee recognized as among the 'Most Distinctive' in North America
By Jenn McKee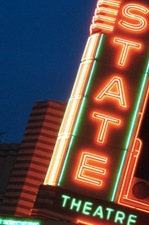 Ann Arbor's State Theatre made
The Atlantic's list of North America's Most Distinctive Theater Marquees
, and is the first one featured in a slideshow that also includes Detroit's Fox Theater marquee.
Both theaters were designed by architect C. Howard Crane; and the State, which opened its doors in 1942, was originally a large, single-screen, art deco theater with a main floor and a balcony, and it was owned and operated by the Butterfield Theater Company.
Eventually, under different ownership, after the theater had been renovated—by way of "quartering" the screens to create four separate auditoriums—the two bottom screening rooms were sold to the Urban Outfitters chain, who built a store in their place; but the trademark marquee has endured, as have the two remaining upstairs auditoriums.
Jenn McKee is the entertainment digital journalist for AnnArbor.com. Reach her at jennmckee@annarbor.com or 734-623-2546, and follow her on Twitter @jennmckee.