Posted on
Tue, Jan 24, 2012 : 9:08 a.m.
Ann Arbor's Sundance USA selection gets positive early reaction in Utah
By AnnArbor.com Staff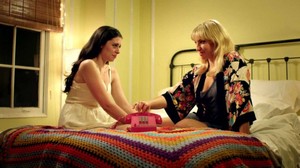 The Sundance Film Festival premiere of "For a Good Time, Call ... ", which will be
screened at Ann Arbor's Michigan Theater on Thursday as part of Sundance USA
, reportedly earned 2 standing ovations on Sunday evening.
The film comedy is all the buzz after its first screening in Utah. USA Today included it in their buzz films for this year's festival in their Sundance Film Festival roundup this week, and The Sundance Report from GQ says, "Love and Sex (and Phone Sex) in Park City: Forget the doom-and-gloom human dramas at the annual film fest - it's four funny, sexy comedies that have got people talking this week."
Sundance Film Festival director John Cooper, who has seen all the films, calls it "the funniest film at this year's festival." Sundance chose Ann Arbor to screen this comedy because it is expected to be a crowd pleaser—described as a mix of "Sex, Lies and Videotape" and "Bridesmaids," plus Seth Rogen—and the Michgan Theater is the largest venue that shows Sundance premieres, including venues at the Utah festival.
Robert Redford, the founder of Sundance, will provide a filmed welcome announcement to the audience ahead of Thursday's screening, and there will be a post-screening Q&A with director Jamie Travis and writers Katie Anne Naylon and Lauren Anne Miller. Screenwriter Miller is also a lead actress in the film and is married to Seth Rogen.
James Wolk, a native of Farmington Hills and a 2007 graduate of the University of Michigan drama school, is also a featured actor in the film.
For more information on the event, including a link to buy tickets, see the preview article from AnnArbor.com.