AnnArbor.com Summer Concert Series features Lisa Pappas and Michael Weiss this week
Posted on Tue, Aug 7, 2012 : 10:34 a.m.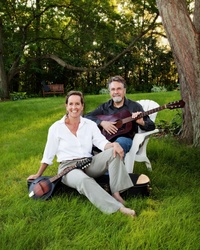 The AnnArbor.com Summer Concert series this week showcases the music of acoustic performer Lisa Pappas, performing with Michael Weiss.

Nominated for a Jammie Award as "Best New Folk Artist" by WYCE- 88.1 in Grand Rapids in 2004, and featured on the "Over Easy" morning program on WCSX 94.7 in Detroit in 2005, Pappas is a Michigan born-and-bred performing songwriter.

Now residing in Ann Arbor, Pappas wrote her first song when she was 12. That was the same year she received her first acoustic guitar. She's been writing and performing music ever since—inspired by such artists as Bonnie Raitt, Patty Griffin, and the Indigo Girls.

She began performing at cafes while attending Michigan State University in the 1980s. She recorded her first CD of original material, "Stranger in Town," in 1998. After receiving serveral music grants from the supportive arts community of Kalamazoo (where she lived from 1996 to 2003), she produced her dobro, mandolin, and congo-laden CD "Harvest of Life" in 2002.

For more on Pappas, check out her website.

Pappas and Weiss will play at noon Friday, Aug. 10 on the patio of the AnnArbor.com Community Space at 301 E. Liberty Street, at Fifth Avenue. The AnnArbor.com Summer Concert Series continues at noon Fridays throughout the season; check out the website for more information.