AnnArbor.com Summer Concert Series returns this week
Posted on Tue, May 29, 2012 : 10:24 a.m.
Free outdoor music is a key part of summer around here, and AnnArbor.com will again provide some of the sounds this year as its Summer Concert Series returns to the patio at the corner of Liberty and Fifth Avenue.
AnnArbor.com's Summer Concert Series showcases a variety of music by regional performers on Fridays at noon throughout the season. Everyone is welcome to attend, with or without a lunch. Chairs and tables are available in the performance area, outside the AnnArbor.com Community Space at 301 E. Liberty St.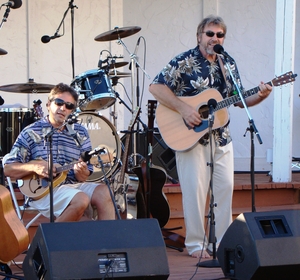 Opening the season this Friday, June 1, will be
Dr. Mike and the Sea Monkeys
, a folk and acoustic blues trio consisting of
Mike Ball, Scott Clauser
, and noted advice columnist
Dr. Mike.
Since Dr. Mike is a fictional character, he never really shows up for rehearsals or gigs, which means that they are actually a two-man trio. Most of their music is original, based on the nationally syndicated column "What I've Learned So Far..." and the book "What I've Learned So Far..Part 1: Bikes, Docks & Slush Nuggets" by Erma Bombeck award-winning humorist Mike Ball.
Check out the rest of the schedule below, and check out the concert series homepage for more information, coverage of last year's concerts, and coverage of this year's concerts as they happen.
June 8: The Paul Keller Quartet - jazz
June 15: No Excuses - pop/rock
June 22: Jon Ponder - singer/songwriter
June 29: Neutral Zone Day - Youth Owned Records Showcase, featuring teen performers from Neutral Zone's youth-operated record label.
July 6: Bill Edwards - performing songwriter
July 13: Alejandra O'Leary - pop/rock
July 27: The Potter's Field - acoustic
August 3: Dave Boutette - roots
August 10: Lisa Pappas and Michael Weiss - singer/songwriter
August 17: The Fortytwo - danceable rock
August 24: The Bob Skon Trio - pop/rock
August 31: The Thornbills - folk/rock