Posted on
Mon, Jul 18, 2011 : 5:50 a.m.
AnnArbor.com to host 'CommuniTree' art project using recycled electrical cords
By AnnArbor.com Staff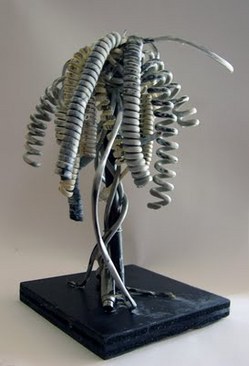 During Art Fair Week (July 18 - 23), local artist
Leslie Sobel
will create a CommuniTree with the help of Townies and Art Fair-goers. The tree will be constructed using recycled phone, computer and electrical cords. CommuniTree is a partnership between the
Ann Arbor Street Art Fair
, AnnArbor.com and the
Milan Art Center
.
"I'm thrilled to be part of an innovative partnership that supports several of our cultural and information entities with such a creative project," said Sobel, who is also the chairperson for the Milan Art Center. "As an artist I'm interested in new ways to support nonprofits while making my own work."
Almost every person and business has old unused phone, computer, or electrical cords lying around. People are encouraged to bring them to the Townie Street Party on Monday, July 18 and help to make the giant woven tree sculpture that will include LED lights on a metal structure.
"We really value how well this project portrays the idea of 'community'," said Michelle Schaefer, Director of Programs and Outreach for the Ann Arbor Street Art Fair. "Cords woven together to form a larger structure, what a great way to represent how people connect and come together to better a community. I can't wait to see how it turns out."
The tree building will continue during Art Fair (Wednesday, July 20 - Friday, July 22 from 1pm to 4pm) on the patio of AnnArbor.com at 301 E. Liberty Street. The Milan Art Center will have members on hand at the Townie Street Party and during Art Fair to assist with the project.

"We believe that this collaboration of art and community is not only fun, but that it is representative of how individuals in our community work together to enhance our quality of life, making our community a great place to be." said Jill Tewsley, events and promotions manager for AnnArbor.com. "It is no mistake that the inspiration for this community-created art piece is a tree. Something that is truly symbolic of this community."

The CommuniTree springs to life during Art Fair, but it will take permanent root elsewhere, living long after the 2011 Art Fair concludes. A silent auction for the finished piece will benefit the Ann Arbor Street Art Fair. Bidding will take place online, allowing interested parties to easily monitor and place bids.

Watch AnnArbor.com for full coverage of the Ann Arbor Art Fair.