Posted on
Sat, Mar 9, 2013 : 5:08 a.m.
Anne-Sophie Mutter talks about program - sophisticated to 'crazy' - coming to Hill Auditorium
By Susan Isaacs Nisbett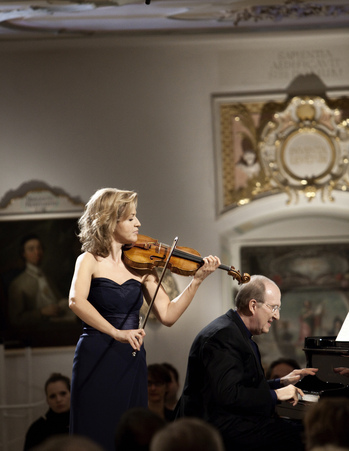 photo by Harald Hoffman
Seriousness and passion. Grace. Purpose. Music from the heart and the head. These are all the things one counts on when violinist
Anne-Sophie Mutter
takes the stage.
All that sounds very high minded—and it is. But Mutter, who returns to Ann Arbor Thursday, with pianist Lambert Orkis, for her sixth University Musical Society performance since her 1989 appearance here with the Leipzig Gewandhaus, is as irrepressible of spirit as she is deep and earnest. You gotta love an artist who joyously likens part of the Saint-Saens first violin sonata to "two squirrels running on a hot stove." You get the musical picture right away.
Delivering the music honestly and vividly is something Mutter and Orkis have been doing for just about 25 years now as recital partners. And in talking about the pieces on their UMS program—the Mozart Sonata in G Major, K. 379; the Schubert Fantasy in C Major, D. 934; the Lutoslawski Partita; and the Saint-Saens Violin Sonata No. 1—Mutter provides commentary just as lively and insightful.
The recital program, she said, began with the Lutoslawski. The composer, whom Mutter had the privilege of working with—he composed his "Chain 2" for her and orchestrated the Partita (composed originally for violinist Mark Neikrug) for her in 1986—would have turned 100 this year. (He died in 1994). So with 100 anniversary celebrations going on, the Partita was at the forefront of her mind, she said, in planning the program.
"It's a fabulous piece," she said by phone from Los Angeles, the first stop of her U.S. tour. "And then the other pieces—new stuff and favorites—fell into place."
PREVIEW
Anne-Sophie Mutter
Who: Acclaimed classical violinist. With Lambert Orkis, piano.
What: Recital of works for violin and piano by Mozart, Schubert, Lutoslawski and Saint-Saens.
Where: Hill Auditorium, 825 N. University Ave.
When: Thursday, March 14, 7:30 p.m.
How much: $10-$75, UMS Michigan League Ticket Office, 734-764-2538, and online at ums.org.
In the favorites category, the Schubert Fantasy, with its set of variations on the Schubert song "Sie mir Gegrusst," holds a clear place. "We've had it in our repertoire for about 12 years, and it's one of the most sophisticated pieces in the violin and piano repertoire." Mutter said. "It's such a positive and uplifting piece, and it's wonderful how the song always gets back to you."
Variations—in character and emotions—are, on a scale both large and small, the theme of the concert.
The Mozart sonata, like the Schubert Fantasy, has an incredible theme-and-variations movement. But the sonata, as a whole, despite the bright G Major tonality, does not fit the model of the "very polite and sunny and gracious (violin) sonatas," she said.
"That's not all that happens in Mozart's music," said Mutter, who did a complete survey, with Orkis, of all the Mozart violin sonatas a few years back. "This one was written in a difficult period of Mozart's life, and it is more ferocious than most and filled with outbursts."
It's also a sonata Mozart wrote on the eve of the planned premiere (between 11 p.m. and midnight, to be precise, according to a letter he wrote to his father) —nothing like counting on your genius to get you through. And Mozart only wrote out the violin part, she pointed out. In his letter to his father, Mozart said: "In order to be able to finish (the sonata), I only wrote out the accompaniment and retained my own part in my head."
Though it is not necessarily ferocious, the Lutoslawski is powerful and also haunting, with a distinct dark side to it.
"Lutoslawski was such a noble man," Mutter said with obvious feeling. "And what a life story and what a difficult life he had in Poland under the Soviet regime."
His father and his father's brother, she noted, were aristocrats and intellectuals; they were both executed by a Russian firing squad when the young Lutoslawski was 5. "He was taken to the death chamber of his father to say good-bye," Mutter noted. "You can hear that in the second movement of the partita."
The sterner stuff of the Lutoslawski, said Mutter, necessitated something playful to finish with.
"We needed a wonderful and different twist," she said. After a sincere, high-minded and sophisticated program, one needs also to show fun and virtuosity and a flashy sense."
The Saint-Saens—"a crazy, crazy piece, and one of the most virtuosic pieces for violin and piano" she said—fit the bill precisely. It's got serenity, music that sounds like exercises for ballet, and of course, those squirrels on a hot tin stove. And we've got Mutter and Orkis to deliver all that. What more could anyone ask?