Posted on
Tue, Sep 14, 2010 : 5:39 a.m.
Annual Parisian Soirée gets Kerrytown Concert House's 26th season off on a festive note
By Roger LeLievre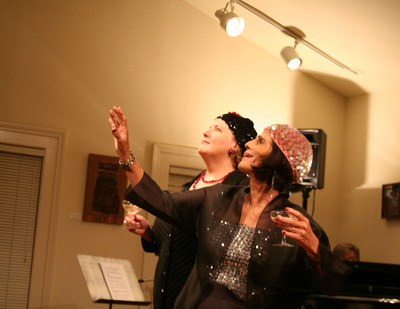 photo by Ellie Ganelin, courtesy of Kerrytown Concert House
Ann Arbor's Kerrytown Concert House kicks off a new season Friday and Saturday the same way it has for nearly 20 years, with its annual Parisian Soirée.
"The program focuses on repertoire with some connection to all things Parisian," explained Deana Relyea, Kerrytown Concert House director and Soirée performer. "It's a fun theme, fun to think about, and we stretch the meaning of it quite often," she added of the French connection. "Most composers have visited Paris, most composers of classical music have studied with (the late, near legendary) Madame Boulanger in Paris. We do fresh things; it offers us some latitude to do what we want."
Besides mezzo soprano Relyea, the bill also includes flutists Jeff Zook and Sharon Sparrow; cellist Robert deMaine (Saturday only); pianists Zihua Tang and Kevin Bylsma; sopranos Jane Schoonmaker Rodgers, Emily Benner and Elizabeth Major; mezzo sopranos Deanna Relyea and Monica Swartout-Bebow; singer and pianist Alvin Waddles (Friday only) and the University of Michigan French horn quartet. Accordion player Julien Labro will be returning to perform Astor Piazzolla tangos and related music with a cast of area favorites (Saturday only).
Other performers on the schedule include Allen Schrott, bass-baritone; Sarah Nisbett, mezzo soprano (Friday only); Juan Pereira, tenor; and Purple Rose Theatre Co. actress Michelle Mountain; and others.
PREVIEW
'Parisian Soiree'
Who: More than a dozen Ann Arbor and area musicians, including Detroit singer and pianist Alvin Waddles (Friday only) and Soirée regular/accordion player player Julien Labro (Saturday only).
What: Annual salute to all things Parisian kicks off Kerrytown Concert House's season.
Where: Kerrytown Concert House 415 N. Fourth Ave.
When: 8 p.m. Friday and Saturday, Sept. 17-18.
How much: $15-$30. Info and reservations: www.kerrytownconcerthouse.com or 734-769-2999.
"She's going to do a monologue, a first (for the Soirée)," Relyea explained of Mountain's portion of the program. "Not too long, but something fun. It's from 'The Madwoman of Chaillot.'"
One name usually connected with the Soirée is absent this year.
"Michelle Cooker isn't playing, she's got some arm problems," said Relyea. "This wonderful Chinese pianist who is from the Ann Arbor area, Zihua Tang, she's playing for Robert deMaine, who is first cellist for the Detroit Symphony Orchestra. Then there's pianist Jean Schneider, playing for Jeff Zook and Sharon Sparrow, the flutists. They apparently have a hilarious version together of the Carmen Fantasie, which is for 2 flutes, that will likely be a surprise.
"On Friday night we have this great pianist/singer, Alvin Waddles, who does Fats Waller and is unbelievable. He's a big talent, a big arranger and conductor. He graduated from Michigan with a master's in voice - he's got a great baritone and he's a wonderful musician.
"On Saturday we have accordionist Julian Labro coming with a band that includes his wife on piano, violinist Alicia Doudna and bass player Andrew Kratzat. They're going to do great arrangements of French stuff and some tangos by Piazolla.
"It will be a real variety show, with some meat in it too. Robert deMaine is going to do the Franck Sonata, it's a big, wonderful piece," she observed.
The emphasis, Relyea added, will be on fun.
"There will be humor. We're trying to put that in everything now. It's a collage featuring our own artists, an amazing collection of people. It's really fast-paced, there's no lag in it. And then, of course, everybody gets a glass of sparkly as they enter (Relyea is mum on the brand of champagne, but adds "it won't be cheap.").
"You get a lot for your money here. It's all good," she concluded.
Watch a video preview prepared by Kerrytown Concert House:
Roger LeLievre is a freelance writer who covers music for AnnArbor.com.