Posted on
Sun, Aug 1, 2010 : 5:17 a.m.
Another Bunch of Sonic Lunch Shows in August
By Martin Bandyke
Now that the Summer Festival and Art Fairs are in the books, what else can we do for fun between now and Labor Day? For your continued listening pleasure, this month offers the final four performances in this year's Bank of Ann Arbor Sonic Lunch series, free concerts which take place at the corner of Division and Liberty Streets in Liberty Plaza.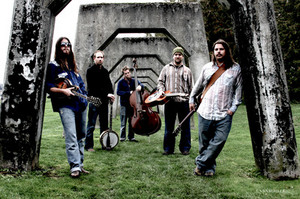 A great excuse to get out of the office for some lunchtime entertainment between 11:30 a.m. & 1:30 p.m., Sonic Lunch will close out its third season with shows by Laith Al-Saadi on Thursday, My Dear Disco (Aug. 12), Greensky Bluegrass (Aug. 19) and Baskery (Aug. 26). For Bank of Ann Arbor President & CEO Tim Marshall, the reason why his business is the lead sponsor of Sonic Lunch is part and parcel of his bank's philosophy. "Our commitments to the community can be expressed in many, many different ways," says Marshall. "Working hard to deliver consistently superior customer service, giving time and talent to worthy causes, being a good employer and good corporate citizen, and talking up Ann Arbor as a good place in which to live, work and play are all components of this commitment. And so is Sonic Lunch."
My Dear Disco multi-instrumentalist Tyler Duncan is quite the fan of Sonic Lunch, both as a musician and audience member. "It's a fun gig and I think it's awesome," says Duncan. "I've gone to a bunch of shows there 'cause the lineup this year is really good, there's not a weak artist. They showcase some really good, high-profile and high-caliber artists who draw big crowds that stay for the whole thing. Sonic Lunch has re-branded Liberty Plaza and changed the Plaza's image and association."
Marshall is so pleased with Sonic Lunch this summer that he's already looking forward to season four in 2011. "The crowds have been exceptional," says Marshall. "This year's been bigger than any of the prior years. It really just creates a lot more excitement and enthusiasm as Liberty Plaza has filled up at some events to capacity. I don't think it's too early to say we'll go ahead with Sonic Lunch next year. With this year being that much bigger it just makes sense."
Listen to a selection of songs by the artists performing at this year's Sonic Lunch series:
Ann Arbor native Laith Al-Saadi gets Sonic Lunch rolling Thursday with his soulful guitar stylings, playing rock, jazz and blues with impressive flair. Fellow Ann Arbor-ites My Dear Disco play next on Aug. 12, just days after performing at Chicago's massive Lollapalooza Festival. "That's a huge deal for us," says Duncan. "It'll be our first time at Lollapalooza and already it's put us in another echelon, increasing our visibility in a lot of ways." My Dear Disco remains the hottest band on the Ann Arbor scene, theatrically and dynamically mixing rock, funk & techno in amazing ways.
West Michigan's Greensky Bluegrass are up next on Aug. 19, and the buzz surrounding this rootsy Americana quintet is all good. Winners of the '06 Telluride Bluegrass Festival Band Competition, the band plays original songs utilizing traditional bluegrass instrumentation, dazzling audiences wherever they play. Closing out Sonic Lunch this year on Aug. 26 will be Baskery, a trio of Swedish sisters who intriguingly describe their sound as mud-country, killbilly and banjo punk. Should be a killer way to wind up Bank Of Ann Arbor's Sonic Lunch series for 2010.
Last month I wrote about another superb group from our area, Tally Hall, who were preparing for a major homecoming gig on the 107one/Sesi Mazda stage at the South University Art Fair. Unfortunately, the guys were unable to play on our outdoor stage due to a nasty thunderstorm that ripped through town, but Tally Hall managed to move their equipment into the dry confines of Pizza House just down the street and played an absolutely brilliant set of old and new tunes to a jam-packed house. The night was a classic example of turning lemons into lemonade and will be fondly remembered by those who were there.
Martin Bandyke is the 6-10 a.m. morning drive host on Ann Arbor's 107one. Follow him on Twitter @martinbandyke and at his web site.