Posted on
Fri, Dec 9, 2011 : 9:11 a.m.
'Answer This!' DVD pre-order, and a special offer, now available
By Jenn McKee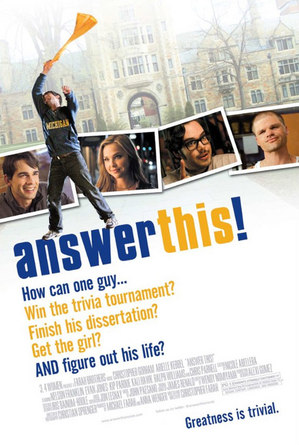 Filmmaking Ann Arbor natives (and brothers) Mike and Chris Farah have started offering pre-sales of the "Answer This!" DVD on the movie's website, and the first 300 orders will receive a stocking-stuffer postcard signed by Chris (writer/director) and Mike (producer) Farah and stars Chris Gorham, Arielle Kebbel and Chris Parnell. Buyers will receive the postcard by the holidays, and the DVD, put out by Lionsgate, will be shipped out January 10.
The DVD includes a 5-minute "Love Letter to Ann Arbor" mini-documentary that was created by local filmmakers as part of a contest the Farahs held during our sneak preview in 2010. The mini-doc features cool stories on The Michigan Theater, the University of Michigan, Nickels Arcade, and WCBN-FM Ann Arbor. The local filmmakers are David Merian and Sean McAnich.
Set in Ann Arbor, "Answer This!" tells the story of a longtime grad student, Paul (Gorham), who gets involved in competitive pub trivia just as his legendary U-M professor father (played by charismatic U-M English professor emeritus Ralph Williams) is pressuring Paul to finish his dissertation and follow in his father's footsteps.
The film was shot in Ann Arbor in August 2009, and it marked the first occasion when the University of Michigan allowed its name to be used in a fictional film. (Chris Farah is an alumnus.) Some locations used in the film include Ashley's, Ingalls Mall, and Michigan Stadium (during a game), among others.
Here's the trailer:
Jenn McKee is the entertainment digital journalist for AnnArbor.com. Reach her at jennmckee@annarbor.com or 734-623-2546, and follow her on Twitter @jennmckee.