Posted on
Tue, Jan 10, 2012 : 5:51 a.m.
'Answer This!', feature film starring Ann Arbor, out on DVD today with bonus features
By Jenn McKee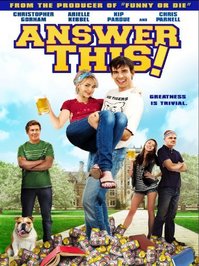 Chance to win a DVD: To celebrate today's DVD release of the Ann Arbor-themed movie "Answer This!" the moviemakers and AnnArbor.com are giving away three copies of the disc to readers of the site. Some time between now and 9 a.m. Monday, Jan. 16, leave a comment on this post—what you thought of the movie or anything related to it—and we will draw three winners from among the commenters. Full rules are available here.
The Ann Arbor-filmed and -set movie "Answer This!" —created by native sons/brothers Chris (director and screenwriter) and Mike (producer) Farah—is being released today on DVD.
Extra features include a look behind-the-scenes, with cast and crew interviews; a short, contest-winning "Love Letter to Ann Arbor" video; three deleted scenes; outtakes of three different scenes; and the trailer.
The 5-minute "Love Letter" video focuses primarily on a few different Ann Arbor institutions, including the Farmers Market, University of Michigan radio station WCBN, and the Michigan Theater. The short appears on the "Answer This!" DVD thanks to a contest held by the Farah brothers, which invited people to shoot their own videos about Ann Arbor; the one that appears on the DVD—by Matt Bendure, Sean McAninch, David Merian, and Joe Sleep—is the contest winner.
Here's an exclusive clip of the winning Love Letter:
The DVD's behind-the-scenes short (about 8 minutes long) offers some general insights from the Farah brothers and producer Anna Wenger, as well as from the actors in lead roles (Chris Gorham, Nelson Franklin, Evan Jones, Arielle Kebbel, Chris Parnell, and retired U-M English professor Ralph Williams). One interesting detail that's revealed is how Kip Pardue—who plays a pretentious, Swedish comparative literature graduate student—got coaching throughout the shoot from the film's Swedish sound man.
Locals will likely most appreciate, however, the commentary provided by the Farahs and Wenger.
In the first-half hour alone, viewers learn that the film's memorable opening close-ups were done at FunnyOrDie's studio in California after the shoot was over (Mike Farah works for FOD); that the lead character's Greenwood Avenue house was actually where the crew stayed during the shoot; the movie's free-hug guy on U-M's campus was based on a real person; the exterior in the bounce house scene doesn't look like U-M's campus because it's not—the scene was the subject of a complete re-shoot at a park in California; law school students were less than thrilled about a film being shot on their turf; and a carpet cleaning truck stalled the filming of scenes at Espresso Royale.
Although recent years have seen a number of feature films shoot in the Ann Arbor area, "Answer This!" is notable in that it is also set here, while most of the others have Ann Arbor stand in for another location. "Answer This!" is also the first time that U-M has permitted its campus to be used and identified as such in a fictional movie.
Check out all our past coverage of "Answer This!" here.
Jenn McKee is the entertainment digital journalist for AnnArbor.com. Reach her at jennmckee@annarbor.com or 734-623-2546, and follow her on Twitter @jennmckee.