Posted on
Tue, Nov 3, 2009 : 10:46 a.m.
Anthony Bourdain bringing acerbic wit, passion for food to Ann Arbor
By Jessica Webster
Anthony Bourdain is a rock star. Ask a woman over the age of 30 about the 53-year-old celebrity chef and host of the Travel Channel show "No Reservations" and she's likely to swoon. Yes, he's rakishly handsome, but that's not really at the core of the appeal. It's the confidence, intelligence and sharp sense of humor that transformed the chef, writer and outspoken food commentator into a sex symbol and household name. On Saturday he brings it all to the Michigan Theater for An Evening With Anthony Bourdain as part of the Ann Arbor Conversations lecture series.
Bourdain first came into the spotlight in 2000 with the publication of "Kitchen Confidential: Adventures in the Culinary Underbelly," a fascinating no-holds-barred behind-the-scenes look at restaurant culture that challenged our perspectives on food — and, for a generation raised on Paul Prudhomme and The Galloping Gourmet, suddenly made cooking sexy. A hurricane of media attention has followed, including books, essays and editorials, an Emmy Award-winning TV series, and a reputation for saying everything that crosses his mind and eating anything that crosses his plate.
Never one to shy away from controversy, Bourdain is an outspoken critic of many of his fellow celebrity chefs. Emeril Lagasse ("Ewok-like"), Giada De Laurentiis ("Big head equals big ratings. Really!"), Rachael Ray ("She's selling us satisfaction, the smug reassurance that mediocrity is quite enough."), Paula Deen ("...her food a True Buffet of Horrors") and Alice Waters ("There's something very Khmer Rouge about Alice Waters that has become unrealistic") are all regular targets, but he reserves his real venom for Semi-Homemade host Sandra Lee: "Pure evil. This frightening Hell Spawn of Kathie Lee and Betty Crocker seems on a mission to kill her fans, one meal at a time. She Must Be Stopped. Her death-dealing can-opening ways will cut a swath of destruction through the world if not contained."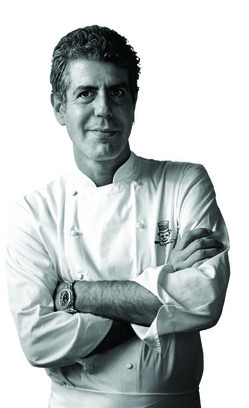 Bourdain recently submitted to an email interview with AnnArbor.com, answering questions about everything from fatherhood to his avowed hatred of karaoke, and giving us a preview of what we might expect from Saturday night's Ann Arbor Conversation. And as usual, he got in a swipe at Sandra Lee.
Q: How has fatherhood changed you? Do you struggle with getting your daughter to experiment with food beyond chicken nuggets, or does she have a more adventurous palate than most kids her age? A: Fatherhood has changed me in the way it changes everybody. It's not about me, me, me all the time. It's about her, her, her... I've found there's no struggling and no amount of convincing a child to try food she doesn't want to try. She makes her own, often very surprising, decisions on what looks good and tastes good and what she's willing to take a first nibble of. As we're in Italy a lot and travel a lot, what she sees her parents eat is probably a lot different than "normal" people, so some pretty cool stuff finds its way into her hands. And of course, some of it she likes. That she enjoys olives, risotto, sardines, sushi, canned tuna is simply a happy accident. She also likes grilled cheese sandwiches and Cheerios like any other kid. I'm embarked on a campaign of propaganda and fear mongering to demonize McDonald's — telling her that Ronald has "cooties" and "steals children" and "smells bad." Gotta get to them when they're young.
Q: In your travels, what city far exceeded your food expectations? Which was the most disappointing? A: Medellin and Istanbul were real surprises, happy surprises. No matter how great you expect Singapore, Saigon, Tokyo or Hong Kong to be, they're always better. Sardinia blew me away in general. And Barcelona and San Sebastian are just as amazing as everyone says. Disappointing? Nah... I don't want to piss on anybody in particular. There are certainly better cities to eat fine dining than Moscow...
Q: If you could eat at only one restaurant for the rest of your life, which one would you pick? A: Couldn't name one restaurant — I would say that if I had to live on a desert island for the rest of my life and had to choose one genre or one chef... I would be pretty happy eating sushi from Sukiyabashi Jiro in Tokyo everyday. Yeah. I'd like that.
Q: Are you accustomed to the level of celebrity you maintain at this point, or is it still a little disconcerting to be recognized at every turn? A: It still always feels a little weird being recognized. I mean... I was an anonymous chef and line cook for 28 years...so I'm still kind of shocked that anyone would care... It's not a hard thing...It certainly helps in a lot of ways. I can hardly complain. Being famous is a lot easier than working a fryer for sure... and a lot shiftier and less noble, to tell the truth.
Q: Do angry citizens of cities you have profiled accost you and demand that you revisit their local cuisine? How about angry celebrity chefs you've spoken out about? A: Yes. "How could you come to our town and NOT cover... (fill in blank here). " People need to be reminded that we are not, cannot and don't intend to show people the best or the most comprehensive — or even necessarily a fair portrait of their town's dining scene — by a longshot. My show is a series of personal, stand-alone essays always with a point of view. Just 'cause the title of the show in the ads says "Seattle" doesn't mean I'm in the business of making a show "about" Seattle. Only that it takes place — mostly — there. It's understandable that people are proud of their towns and their personal favorites and want to see those presented in a good light, but that's not what I do. That's a Fieri gig... or Rachael or the other guys...
Q: How do you feel about the term "foodie"? Would you describe yourself with that label? A: This word must be banished. It now has negative, nerdly, pretentious implications. Sooner it's dead and buried the better for all of us.
Q: Why do you hate karaoke so much? A: Cause I have a bad voice — as do most people who engage in karaoke. Plus the songs suck. No one does The Stooges... it's always "American Pie" or Journey or some s---. Irony does not make those songs any better now than they were then.
Q: What can people expect from your talk at the Michigan Theater? Will you be taking questions? What's the strangest question you've been asked? A: I have no idea — won't have any idea until I see who's coming and how drunk they are. Then I'll wing it from there. There WILL be plenty of opportunity for questions from the audience and in fact, that's my favorite part.
Strangest question? "Who Killed JFK?" My answer is always, "Where was Sandra Lee that day?"
Jessica Webster is on the Community team at AnnArbor.com. She recruits contributors for the site and leads the Food & Drink and Books sections. You can reach her at JessicaWebster@AnnArbor.com or 734-623-2574.
PREVIEW "An Evening with Anthony Bourdain" Who: Culinary personality Anthony Bourdain (host of "No Reservations," author of such books as "Kitchen Confidential" and "A Cook's Tour") What: He will share anecdotes, discuss his work and answer questions. Where: The Michigan Theater, 603 E. Liberty St. When: Saturday, November 7 at 8 p.m. How much: $45, $50, $55 or $65.