Posted on
Sun, Nov 8, 2009 : 5:28 a.m.
Anthony Bourdain serves up delicious conversation at the Michigan Theater
By Leah DuMouchel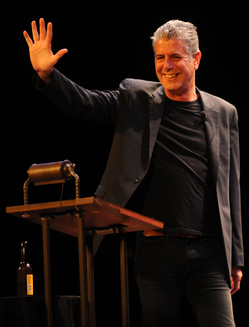 photo by Melanie Maxwell | AnnArbor.com
To watch the Travel Channel's "
No Reservations
," you might think it takes a halfway-around-the-world trip to an indigenous Asian village and a good sampling of mysterious food for chef and host
Anthony Bourdain
to put on a good show. Nope. Turns out he's just as much fun alone on the stage of the Michigan Theater with a few notes and a bottle of
Brasserie Blonde
from
Arbor Brewing Co
.
He let us know straightaway that he was glad to be here in the home of the greatest band ever - that'd be The Stooges - and proudly noted that when he'd made a shot-in-the-dark appeal to Iggy Pop to let him use the song "Down on the Street" for a show episode, he received a reply that would be paraphrased on a family friendly site to read, "Iggy is aware of you, and he thinks you are not a synonym for a male-specific bodily organ." The episode aired last summer, but the pure delight was still radiating from Bourdain's face.
For any of us who hadn't caught up on his biography, he gave a quick rundown: worked in kitchens for 28 years, perfecting his potty mouth in the company of tattooed gentlemen with a disproportionate representation of ex-convicts, and at some point wrote a $100 article called "Kitchen Confidential" for a free alternative weekly called The New York Press. The editors sat on the piece for what Bourdain felt to be an undue amount of time, occasioning him to place a drunken phone call that ended with "Screw you, I'm sending the article to The New Yorker." So he did, and it led with breakneck speed to a book deal for the 2000 bestseller of the same name. The trick, he said, was writing the thing under the assumption that no one was going to read it, ever. Seven more books and two television shows seem to testify to his assertion that "Not giving a (hoot) has turned out to be a very successful business model for me," although his mother still occasionally tries to get him to clean up his act here and there.
Bourdain has the kind of stories and the flair for telling them that convince folks like Vickie Selinger to drive all the way from Lansing to hear them. Although he promised not to tell any Rachael Ray jokes ("It's low-hanging fruit, really"), in the next breath he launched into a tale of Ray first astonishing him with her impeccable taste in punk music and then sending him a sympathetic fruit basket for his slightly horrified confusion. It's clear that Ray got the last word, as did the also-maligned Sandra Lee when he and his wife ran into Lee and her date, New York State Attorney General Andrew Cuomo, over dinner. While Bourdain tried to hurriedly comb his past for any tax irregularities or statutes of limitations, Lee chattered away charmingly as she gave his physique the kind of going-over that put him in mind of a meat inspection, then pinched his bright-red ear and went on her merry way.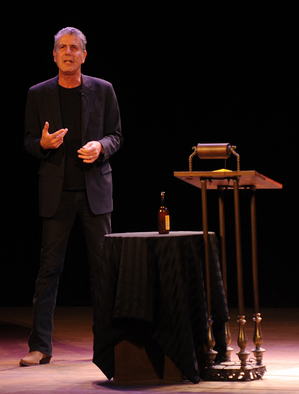 Melanie Maxwell | AnnArbor.com
Most of his stories, though, came not from the New York City TV-star scene but from traveling to the far ends of the earth, and the first thing he wanted to clear up is this notion of "bizarre food." Bizarre to whom? While we might think it strange to eat insects (which, he noted, are quite crunchy and covered in herbs), what must rural folks from the other side of the world think about a five-hundred-pound man eating a Cinnabon? McNuggets that only vaguely resemble chicken? Having your evening meal at a place called The Old Spaghetti Factory? It's his view that the engine of gastronomy is and always has been folks who made the available food good because they had to. Coq au vin is a bird so tough it has to sit in wine for a couple of days before it can be eaten. And escargot? No chef looks at a snail and wonders how to cook it. No, that's one hungry dude doing the best he can to keep his family from starving.
The second thing he wanted to clear up is the eternal question of "Don't you get sick?" Yeah, sometimes, although he admitted that it's usually related more to the copious sampling of regional alcoholic beverages than to the food. ("We're not alcoholics," he reassured us. "We're professionals.") But for the most part he's figured out that it's always the lady soaking herself up to the elbows in Purell and looking askance at half of the offerings who's the first one sick - and he's dead sure it's from the breakfast buffet at the hotel.
Bourdain proposes an easy method for ferreting out the best of the local food: If there are more than two Americans in the place, get out. Since in much of the world, "fast food" refers to one-dish, one-chef street vendors, it's a good idea to look for the place with the longest line and add yourself to the queue. The hotel chefs figure you'll be halfway over the Atlantic before their misconstrued pasta Bolognese sets your digestive tract into reverse, but the woman on the corner hand-rolling pig's head into tortillas isn't going to survive by poisoning her neighbors.
Maybe the most serious piece of advice he gave was this: Be a good guest. Eat what's offered. He called it the Grandma Theory, as in, you might think Grandma's Thanksgiving turkey is a little dry or tough, but you're darn sure going to eat it and then say, "Thank you, Grandma. That was delicious!" He insisted that the same applies all over the world, as people - who may have shockingly little by our standards - open their homes and their tables to traveling strangers. Hospitality is important in some places, he admonished (leaving a pause that could be used to contemplate whether that was true here), and when people give you their best, they're telling you something. Be mindful of what you tell them in return.
Oh, and have some fun, would you? Bourdain recalled seeing an elderly couple disembarking a tour bus, clearly living out their lifelong dream of visiting Italy and shuffling along while a guide half-heartedly pointed out the centuries-old splendors surrounding them. He named it one of the saddest sights in his life. He just wanted to run over and shake them, then take each one by the hand and lead them two blocks over to a hole in the wall where the grappa flowed and the food was decent and the people chattered away in Italian. "Let things go wrong!" he wanted to shout. "Have an adventure!" Cooking, he said, is about dominance and control. Eating and travel should be about submission.
Leah DuMouchel is a freelance writer for AnnArbor.com. The Ann Arbor Conversations series continues with PostSecret creator Frank Warren on Dec. 4 and writer David Sedaris on April 14.