Posted on
Sat, Sep 8, 2012 : 5:21 a.m.
'Anything Goes' with Ann Arbor Civic Theatre
By Jenn McKee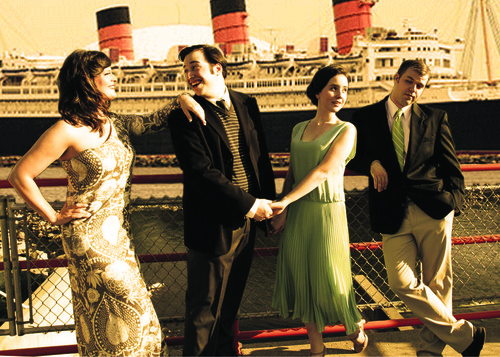 Andy Ballnik
, director of
Ann Arbor Civic Theatre
's production of "Anything Goes," has long had a soft spot in his heart for the goofy, Depression-era musical about hijinx on the high seas, accompanied by a
Cole Porter
score.
After earning a role (Billy Crocker) in "Anything Goes" as a high school student, years ago, Ballnik more recently directed his own high school production in Walled Lake before taking on a different version of the show's libretto for Civic. (There are four versions: 1932, 1962, 1987 and 2011.)
"It's been an interesting experience, going through the various scripts," said Ballnik. "Each one has slightly different songs, there are some different characters—but I'm really growing to like (the) version ('87) we're doing right now. The songs and the dialogue aren't as campy. It's more adult. … We're having a blast with it, and the cast is improvising a lot. … Yes, it's still campy, and there are cliche jokes in it, but the actors are making them funny."
PREVIEW
"Anything Goes"
Who: Ann Arbor Civic Theatre.
What: Celebrated, classic musical comedy that features the music of Cole Porter and takes place on an ocean liner. Showgirls, gangsters, and crazy lovers are on board for this madcap story of adventure and romance.
Where: Lydia Mendelssohn Theatre, 911 N. University Ave. in Ann Arbor.
When: Thursday through Saturday at 8 p.m., and Sunday at 2 p.m. (September 13-16).
How much: Call 734-971-2228 or visit www.a2ct.org.
The show's plot—such as it is—focuses on a young Wall Street broker named Billy Crocker, who falls for an heiress who's traveling by boat across the Atlantic with her stuffy British nobleman fiance, Evelyn, and her mother. On the same ocean liner, a gangster and his friend pose as a minister and a missionary, and an evangelist-turned-nightclub singer Reno Sweeney falls into a romance with Evelyn.
P.G. Wodehouse and Guy Bolton collaborated on "Anything Goes"' original book, which was revised by Howard Lindsay and Russel Crouse. However, the show's obvious raisons d'etre are Porter's infectious music—including the hits "You're the Top," "I Get a Kick Out of You," and "It's De-Lovely"—and dancing. Lots and lots of dancing.
"I really am a proponent of the idea that in musical theater, you have to have dance," said Ballnik. "They go together. And I'm also a big proponent of the belief that the dance has to heighten the plot and send the plot forward. The dance numbers are what this musical is known for, not the silly plot. A lot of Cole Porter musicals, with the exception of 'Kiss Me Kate,' just take standards and build some kind of story around it. … So I want to make our dance numbers big and entertaining."
But doing big, splashy musical numbers with performers who have little training can be a challenge.
"We have a lot of non-tappers in the show, so the challenge was making them look like tappers," said Ballnik. "(Tap instructor Susan Filipiak) put them through tap boot camp every Sunday through July. So they've been at the studio, learning how to tap from the ground up. … They're finding it to be a lot of work. I've seen them at dance rehearsals, and they're working their butts off. But they're also having a great time doing it."
And just as the music, dancing, and ridiculous plot of the premiere production of "Anything Goes" allowed Depression-era theater patrons to forget their troubles for a while, Ballnik hopes to do the same with his take.
"Come and sit back and enjoy the show," said Ballnik. " … It's not deep, it's not Shakespeare. It's just a lot of fun on stage. And that's what I want. For people to be entertained."
Jenn McKee is the entertainment digital journalist for AnnArbor.com. Reach her at jennmckee@annarbor.com or 734-623-2546, and follow her on Twitter @jennmckee.