Posted on
Tue, Aug 27, 2013 : 5:57 a.m.
The Appleseed Collective brings vintage music styles to new album and The Ark
By Kevin Ransom
The members of The Appleseed Collective are young people who evidently have old souls - at least when it comes to music.
The group members range in age from 23 to 27 years old, but their musical passion is for vintage styles, most of which date back to the first half of the 20th century - the Gypsy jazz / hot jazz of the 1930s - '40s, Dixieland, ragtime, bluegrass, swing, jazz standards of the '30s and '40s, etc.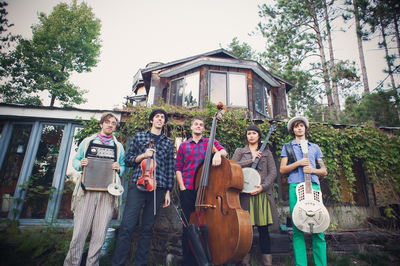 courtesy photo
The Ann Arbor-based group formed in 2010, then released their debut album,
"Baby to Beast,"
last year. They are slated to release their next disc in a few months, "probably in December," says
Katie Lee
, who plays banjo and is one of the group's lead singers, along with acoustic guitarist
Andrew Brown
.
The group also includes Brandon Smith on violin and vocals, Vince Russo on washboard and vocals, and Ben Rolston on stand-up bass. Rolston is new to the group - he joined after they released their debut album, and replaces Sophie Tulip. Rolston is a graduate of the University of Michigan's jazz program, "so this record has even more of a jazz influence going on," says Lee.
The group performs Thursday at The Ark, and they're billing the show as a "pre-release" party, so they'll be playing almost all of the songs from the new disc, says Lee. Those who attend can pre-order the album that night at The Ark - and if they do, "they'll get a digital download card so they can download the first single, 'The Periwinkle Blues', for free," says Lee.
"I think of the first album as being one made by a group of ragtag kids, while on this one, the melodies and chord progressions are more sophisticated, and more subtle.
"I also think the music is more mature," says Lee. "Andrew is our main songwriter, and a lot of the songs on the first album were ones he wrote when he was younger. These songs are more recent, from the last year."
On the new disc, titled "Young Love," the group took more of a live-in-the-studio approach to recording.
"On the first record, we did a lot of separate tracking. But we've developed more as a group since then, and we're now more confident in our abilities. In our live shows, we do a lot of improvisation, and take a lot of solos, so we wanted the record to be more representative of that - to capture that more improvisational approach.
"Onstage, we like to deliver dynamic, interesting performances of the songs that, because of the improvisations, are different every time. And the room we recorded in was this gorgeous room with tall ceilings, so we wanted it to sound as good as we could make it, on its own, on our acoustic instruments, and give it a natural feel, without using many studio effects."
PREVIEW
The Appleseed Collective, with The Red Sea Pedestrians
Who: Young Ann Arbor-based band with a passion for vintage styles that released its debut album last year and will release its follow-up CD later this year.
What: A mix of Gypsy jazz / hot jazz, ragtime, Dixieland, bluegrass, swing and 1930s-'40s-era jazz standards.
Where: The Ark, 316 S. Main St.
When: 8 p.m. Thursday, Aug. 29
How much: $15. Tickets available from The Ark box office (with no service charge); Michigan Union Ticket Office, 530 S. State St.; or online at https://www.vendini.com/ticket-software.html?t=tix&e=cc0614c26ee51a26186ca60ea913456c
The group's origins can be traced back to a chance meeting between Smith and Brown. Smith was playing violin outside Ann Arbor's Cafe Ambrosia, accompanied by a friend who was playing guitar. The friend took a break, and then Brown emerged from the Cafe and asked if he could play with Smith for a bit.
The two played a few songs together and discovered a strong musical chemistry, and a shared affinity for improvisation, and decided to form the band.
On the new disc, Brown wrote "seven or eight" of the songs, says Lee, while she wrote three, after not having written any for the debut album. Brown and Lee differ in their compositional styles. Brown is steeped in the music of the Gypsy-jazz / hot-jazz giants like Django Reinhardt and Stephane Grappelli, "so his compositions tend to be very influenced by those styles," says Lee.
"As a writer, I tend to lean more toward country and folk music. I bring simpler folk-music elements to the group, while Andrew's songs have this cacophony of different sounds."
Before she joined Appleseed, Lee mostly listened to Dixieland and jazz standards, and was also in the local alt-folk group Orpheum Bell. As a banjo player, she started out playing in the old-time clawhammer style, but now plays more of a "hybrid of Dixieland and other jazz styles."
As a singer, she does scat-singing on a few of the group's tunes, and on the upcoming disc, she also did some multi-tracking of her voice to create three-part harmonies in the '40s-swing-jazz style of the Andrews Sisters.
"I definitely love to sing the standards, and I like doing vocal improvisation. That form is such that it really opens up, and gives you room to improvise."
Most of the group's improvisations, though, come from guitarist Brown and violinist Smith. "They both are just such great improvisers," says Lee. "Andrew's father is an amazing keyboard player, so he learned early on how to improvise, and Brandon grew up in the in the Saline Fiddlers, so he also learned at a young age how to take a solo.
"And now we have (bassist) Ben, with his formal jazz education, so he also delivers some incredible solos when we let him loose."
Kevin Ransom is a freelance writer who covers music for AnnArbor.com. He can be reached at KevinRansom10@aol.com.