Posted on
Sun, Apr 1, 2012 : 5:59 a.m.
Films, Fools and Easter Eggs!
By Ann Dwyer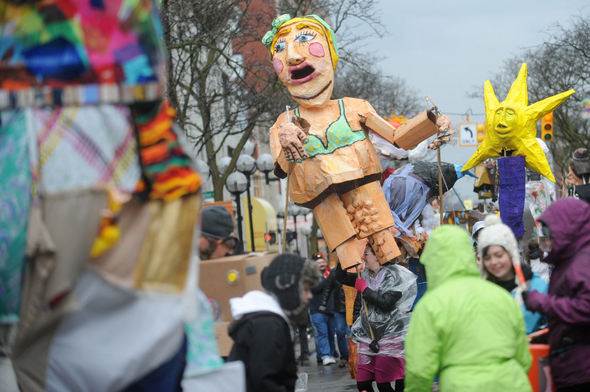 Melanie Maxwell I AnnArbor.com
FILM
The "Ann Arbor Film Festival" ends today. 11 a.m.-midnight. The Ann Arbor Film Festival is the longest-running independent and experimental film festival in North America. For more information, call 734-995-5356 or go to www.aafilmfest.org for a full schedule. $10 general admission or $7 for students, seniors and AAFF members. Juror presentations are free. The Michigan is at 603 E. Liberty St., Ann Arbor. 734-668-8397.
ENTERTAINMENT
"FestiFools" will take over the streets today. 4 to 5 p.m. Magnificent, huge, bizarre, politically incorrect, human-powered papier-mache puppets join thousands of Foolish friends frolicking about downtown. Free. South Main Street, between William and Washington streets.
CRAFTS
Feeling foolish about not having something to bring to FestiFools? Then take the kids to the Ann Arbor District Library for a "Festifools Craft." 2-4 p.m. They are teaming up with 826michigan for a robot invasion and then joining the FestiFools parade on Main Street. For grades K-5. Free. The AADL is at 343 S. Fifth Ave., Ann Arbor. 734-327-4200.
MUSIC
The California Guitar Trio, with special guest Tony Levin will perform at the the Ark tonight. 7:30 p.m. This virtuoso trio has just released "Masterworks," an all-classical album. They also play progressive rock, surf music, jazz, blues, country and some traditional North African and Asian sounds for good measure. Levin was the amazing bass and Chapman stick player for King Crimson. $25. The Ark is at 316 S. Main St., Ann Arbor. 734-761-1800.
KIDS
There will be an "Easter Egg Hunt" at Hudson Mills Metropark. Noon. Children ages 12 and under can watch the Farmer John and the Barnyard Express animal show, join in fun activities, hunt for eggs and meet the Easter Bunny while waiting for their age group to be called. $6 per child, plus vehicle entry permit. The park is at 8801 N. Territorial Road, Dexter. 734-426-8211.