Posted on
Mon, Jun 10, 2013 : 10:41 a.m.
Arbor Opera Theater adds a 'Downton Abbey' twist to Mozart's 'Figaro'
By Jennifer Eberbach
A new spin on a Mozart classic also stays true to the original. No, it is not an oxymoron. Arbor Opera Theater's upcoming production of "The Marriage of Figaro" finds ways to change it up while staying faithful to the 1786 comic opera.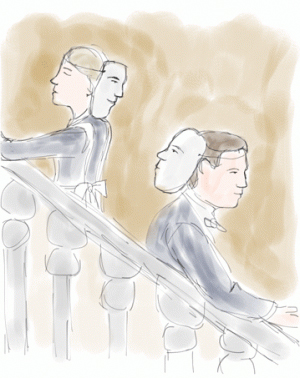 Performances at the Lydia Mendelssohn Theatre will occur
June 13 through June 15 at 7:30 p.m. and June 16 at 2 p.m.
Mozart's original opera, which was based on Beaumarchais' play "Le folle journee', ou le Mariage de Figaro," was set in 18th century Spain. But Arbor Opera Theater's version moves the action to an English country house circa the 1910's. It is a setting that is purposefully similar to, and inspired by, the BBC (and PBS) hit TV show "Downton Abbey."
"I like to try to find parallels to other times and places that help to make the story resonate in a different way. Maybe it will make people think about the way in which the story relates to our own time," says artistic and stage director Shawn McDonald.
The hijinks, plot twists, class struggles and general feel of "Figaro" fit right into other moments in history.
For example, McDonald thinks the class struggles going on in Spain were cut from the same cloth as those found in early 20th-century British society. History repeats itself. In his essay about the concept he wrote for Arbor Opera Theater's website, he relates "Figaro" to 21st-century America and "the 99 percent rallying for justice," he writes.
PREVIEW
"The Marriage of Figaro"
Who: Arbor Opera Theater.
What: Mozart's "Marriage of Figaro," with a "Downtown Abbey"-style twist.
Where: Lydia Mendelssohn Theatre, 911 N. University Ave., Ann Arbor.
When: June 13-15 at 7:30 p.m. and June 16 at 2 p.m.
How much: $22-$50. (Students and seniors, $15.) Tickets available at 734-763-8587 or online.
On the other hand, this version of the classic should please Mozart and opera aficionados who know "Figaro" well. "We are doing the opera almost completely as originally composed by Mozart, and we really wanted to keep as much of the story intact as possible. At the heart of it, it's still important to tell the story that people know," McDonald says.
"I don't think the purists will find it to be so far out there," McDonald says.
2 full casts of professional opera singers will be featured. The main reason for this is to feature as many emerging opera singers as possible. Arbor Opera Theater's mission "is to give emerging artists professional opportunities—graduates from the university or singers who have started their professional careers. Having 2 casts lets us feature more of them," McDonald explains.