Posted on
Wed, Feb 20, 2013 : 9:57 a.m.
'ArchiFest' architects from the Huron Valley region share noteworthy projects
By Jennifer Eberbach
From the comforts of home to the design of public places where people work, play, and gather, architects transform the spaces we inhabit. Architects in the Huron Valley region design, renovate, expand, and restore all sorts of private and public spaces—not just local places, but commissions across the country too.
Architecture firms and design studios from the area are highlighting some of their noteworthy projects in "ArchiFest," an exhibition of photo panels on display on the 3rd floor of the Ann Arbor District Library's Main Branch.
The Huron Valley Chapter of the American Institute of Architects features the photo panels to promote members, who may hail from anywhere in Washtenaw, Jackson, Lenawee, Livingston, and Monroe counties. Previous events were held at the Michigan Theater in 2010 and 2012.
A special treat is that three University of Michigan architecture students who show real promise are also featured in the show. Andrea Yoas, Justin Garrison, and Andrew Heathfield all won Scholarship Awards from both the national AIA and the Huron Valley Chapter for their concept designs. They were chosen from a student show, titled "Scenes From the Studio." Their panels are located on a wall around the corner. Make sure not to miss them.
Architects featured in the show have worked on many local projects, but they also get commissions from all over the place. For example, Penchansky Whisler Architects has a photo panel showing their work on the Washington Street Gallery in Ann Arbor, the cafe at the Ypsilanti District Library, the Ferndale Public Library, and finally The Eye Gallery, an optometrist office in Ypsilanti. The exhibition is also a way to find out about out-of-state commissions such as some of Penchansky Whisler's private residential expansions, which are shown on a second panel.
Quinn Evans Architects "transformed a polluted industrial site and obsolete power station into corporate headquarters with outdoor amenities and a public river walk that connects two city parks," in Lansing, according to the text on their photo panel about transforming the Ottawa Street Power Station into a LEED Gold certified new national headquarters for Accident Fund Holdings. And in Ann Arbor, many know of their work on the new Municipal Center.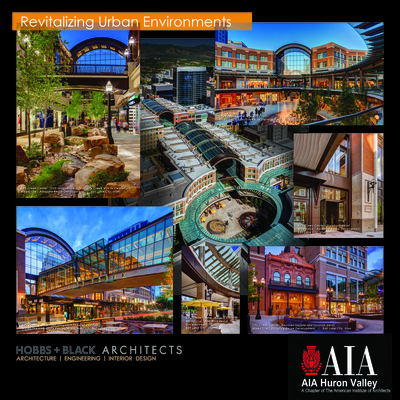 Ann Arbor architects
Hobbs and Black
feature concept drawings for retail on Woodward Avenue and examples of projects in Detroit, which are shown on one of their panels. Another shows their work on City Creek Center in Salt Lake City, Utah, which includes a shopping center, a sky bridge, and a fountain. The panel describes it as "mixed-use" and "adaptive reuse development."
And there are plenty of other panels to peruse that show residential expansions and renovations, commercial spaces, historical restoration related work, and other types of projects. Also featured in "ArchiFest" are A3C Collaborative Architecture, Damian Farrell Design Group, PLLC / Kingston Builders, HartSilvers Architecture and Design, Hopkins Burns Design Studio, Lewis Greenspoon Architects, Rueter Associates Architects, and Van Goor Architects.
The three up-and-coming student architects present ambitious ideas. Andrea Yoas, a junior in the UM Taubman College of Architecture and Design from Grand Haven, created a Rockite model of a recruiting and tutoring center. The other panel features a collaborative project between Justin Garrison, an M.A. architecture student who is continuing at UM to pursue a second M.A. in urban planning from Austin, Texas, and M.A. Architecture student Andrew Heathfield from Columbus, Indiana. They envisioned a mixed-use "live work space" above the new underground parking structure next to the library.
In general, "ArchiFest" is a visual survey of the types of architectural projects local architects are working on. Visit the exhibit to get a feel for their design styles.
Although the panels are well done and engaging, they are not all that exciting. Visually informative, yes, although I found myself wishing the photos were larger. Another critique is that most of the panels only give you short snippets telling you the stories behind the photos. But the exhibition gives you plenty to look at.
"ArchiFest" is surely worth a look if you love architecture or are in the market for a remodel. Huron Valley region architects are definitely in touch with contemporary trends in architectural design—rehabilitation, mixed-used development, streetscapes, using light or negative space, and other pursuits just to name a few. Much of it is impressive.
ArchiFest continues at the AADL downtown location, 343 S. Fifth Ave., through Feb. 27.