Posted on
Sat, Oct 13, 2012 : 10:15 a.m.
Argus Museum hosting powerful, personal photo exhibit on foreclosure crisis
By John Carlos Cantu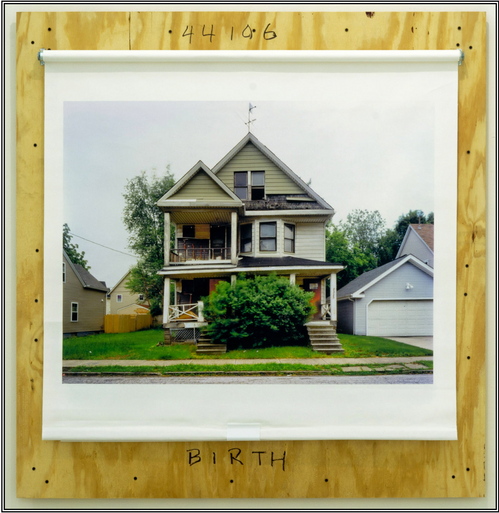 Sociology, economics, and ultimately, autobiography, are the featured artistic elements in Charles J. Mintz's "Every Place (I have ever lived)" at the Argus I Building's second-story museum.
Subtitled "The foreclosure crisis in twelve neighborhoods," this Cleveland-based photographer's mixed-media investigation into his personal history—as told through a dozen color foreclosed dwellings in the vicinities where he's lived—is touching and telling in equal measures.
As seen through Mintz's photographic eye, personal history and social history end up being largely the same thing. And given his penchant to consistently conflate these two disparate elements, his mixed media require some unpacking.
"Each work," Mintz tells us in his gallery statement, "is a 4' x 4' sheet of raw plywood with two photographs that are printed on fabric. The 'inside' photograph is screwed in place. The top image has been made into a window shade that pulls down over the first.
"Side pieces for each (plywood station) briefly explain both where the piece fits into my personal biography and provide some information about the neighborhood portrayed.
"Maps on the side pieces show where you are in my personal journey. In addition, there are charts of both the changes in median family income between the time I lived there and now (based upon the 2000 census) and the changes in racial mix between then and now (based upon the 2010 census)."
The dual color photographs of these houses really arrest attention.
"The second and the twelfth pieces (1949-1961's "Chuckie's Room" in Cleveland Heights, OH and Cleveland's 2009 to current date "Neighborhood")," says Mintz, "were made for a group exhibition at Cleveland Public Art in 2008. The second piece, my childhood home, is the only one in the series where I actually lived in the home."
As such, there's a deliberate disconnect between Mintz's didactics (where each station outlines his life history) and the architectural visuals themselves. Here's where the exhibit's logic becomes heartfelt.
Each plywood station unravels a bit of Mintz's story: From his birth through his boyhood parents' divorce and reconciliation—through his awkward high school and college years—culminating in the founding of his career, his family, and his discovery of photography.
Through his words, Mintz outlines a personal history that's familiar enough. Personal triumphs are set next to the personal losses, and Mintz's story is ultimately our story as well. His family's Midwest adventure around Ohio, Indiana, and Michigan (Ann Arbor marks a particularly memorable sojourn) eventually ventures as far east as Maine before he and his family return to Cleveland.
Even as the economic and sociological demographics do their part in Mintz's story, he makes it clear that he believes race and financial position are ultimately relative to the journey. The story might have differed at another time, but from mid- to late-20th century, Mintz seeks to build a case that our American commonalities are more tightly bound than we might otherwise expect.
Back to those touching and telling architectural photographs: As Mintz makes clear, with the notable exception of the house where he was raised as a child, the houses on display in "Every Place" have no direct relation to his personal experience. He's found them as an art photographer.
Yet as his introduction also says, these foreclosures are to be seen all around us if we only know where (and how) to look.
"It seems in this series that there are three crises," writes Mintz. "There were fine (foreclosed) homes that appeared to have been owned by people of means.
"In neighborhoods that would, at one time, have been called 'blue collar,' it is not the same. Here, it was easy to find multiple foreclosed homes on a street. Curiously, the streets in these neighborhoods still looked intact. Lawns were mowed; properties were in decent shape.
"In the inner city it is different. A drive down any of the side streets in the neighborhoods yield a stream of boarded up properties punctuated by now empty lots.
"It was clear that efforts had been made in some of these places to keep things together, and the other homes on the street that are occupied were in good shape. In fact, there was mixed-in some relatively new construction—it looked a bit like a forest after a fire as plants begin to reestablish. It is, however, a mistake to be fooled by this optimism. What happened is horrible and has not ended."
It's only with the close examination of some of these oversized color photos that the telltale signs of foreclosure are apparent; while others are clearly dilapidated. Hence Mintz's obvious bewilderment with the 2008 destruction of his family home in Cleveland Heights that, as his photo shows, was admittedly in some disrepair.
"In the end, I just don't know what to think," he admits. "When I visited the site of my childhood home, it had been torn down. It was disturbing. You expect these things to age and change, maybe deteriorate. But disappear?
"This feels like a war on the idea of the family home," Mintz sorrowfully says. "It's easy to see who lost. I have no idea who won."
"Every Place (I have ever lived): The foreclosure crisis in twelve neighborhoods" will continue through Nov. 16 at the Argus I Building Museum, 525 W. William St. Gallery hours are 9 a.m.-5 p.m. Monday-Friday, or by appointment. For information, call (734) 769-0770.