Posted on
Sat, Mar 23, 2013 : 5:47 a.m.
Opera favorite 'Ariadne auf Naxos' returns to U-M stage
By Laurel Firant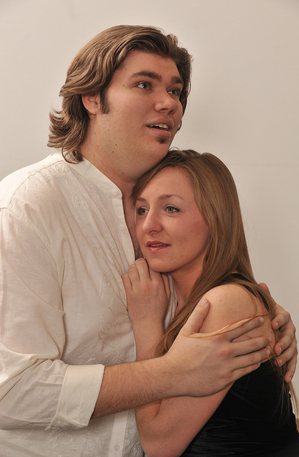 photo by Peter Smith Photography | courtesy of the University of Michigan
Serious opera meets comedy to the luscious music of Richard Strauss iin "Ariadne auf Naxos."
Sung in German with a libretto by Hugo von Hofmannsthal, the University of Michigan Opera Theatre and University Philharmonia Orchestra present the 1916 revised version on March 28-31 at Lydia Mendelssohn Theatre.
This often-staged work in two parts is an opera within an opera. The prologue is set at a wealthy Viennese patron's home where, due to time constraints, a serious opera company and Commedia dell'Arte actors are forced to merge their productions. The ensuing antics result in a new spin on a mythological tragedy staged in the second section.
But there are larger themes at work as well. In my recent conference call with the opera's director, U-M Associate Professor of Music Kay Walker Castaldo, and guest conductor Kamal Khan, both stressed that a conflict between money and art is at play in the story.
"People are transformed by love and art in this piece," Castaldo added, and Khan stated further that they "are also transformed by other people's love for music." Khan is the head of the opera school at the University of Cape Town in South Africa, and his appearance is part of U-M President Mary Sue Coleman's initiative to establish relationships with African universities.
"Ariadne auf Naxos" "is a gorgeous example of German opera, and we haven't done one for a while," Castaldo said. It was last performed by U-M in 1954.
PREVIEW
'Ariadne auf Naxos'
Who: U-M Opera Theatre.
What: Richard Strauss classic.
Where: Lydia Mendelssohn Theatre, in the Michigan League, 911 N. University Ave.
When: March 28, 7:30 p.m.; March 29 and 30 8 p.m.; and March 31, 4 p.m. Following the performance on March 29, there will be a discussion featuring members of the cast led by Castaldo.
How much: Ticket prices are $26, $20, and $10 for students. They are available at the League Ticket Office (located within the Michigan League). Tickets may also by ordered by phone at 734-764-2538 or online at tickets.music.umich.edu.
Khan noted the work has a challenging score, but that Strauss' pared down orchestra makes it easier for university performance. He also mentioned that the piano on board "makes the opera seem a little like a rehearsal," adding to the story's behind-the-scenes ambience.
The smaller orchestral ensemble creates a more intimate sound overall, but Strauss' compositional style remains rich. One of the highlights of the work is the beautiful coloratura aria, "High and mighty princess," sung by the comedy troupe's leading lady, Zerbinetta.
Khan remarked that even at the time the work was created, there were concerns that the audience might not relate well to the archaic Commedia characters. The U-M production is set in March 28, 2013, and the Commedia roles have been updated to resemble members of a modern comedy improv group. But there are timeless qualities to the story that Castaldo said seem to resonate with the young artists involved in the production.
"There are themes of what it means to live your life for art," she said. "Without a safety net," Khan added. "It's a powerful argument for the non-selfish, generative power of human love."
The opera is double cast and will be presented with projected English translations. Assistant Conductor Elliot Moore will conduct the performance on March 31.