Posted on
Thu, Nov 18, 2010 : 10:40 a.m.
Arianna String Quartet concert a final offering from Friends of Chamber Music at Pease
By Susan Isaacs Nisbett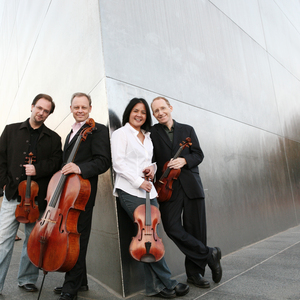 Local classical music fans have long depended on the kindness of friends, as in the Friends of Chamber Music at Pease, which over the years has underwritten free chamber music concerts at Eastern Michigan University's Pease Auditorium.
Sunday, Friends of Chamber Music, which is disbanding in its current configuration under the EMU Foundation, offers a last gift to be thankful for: a concert by the Arianna String Quartet of Beethoven's six Op 18 string quartets, the groundbreaking set that launched the master in this genre. The concert is, of course, free, and is open to the general public. It begins at 2 p.m. at Pease and should end by around 5:30 p.m.
From 1996-2000, when it served as quartet in residence at EMU, the Arianna String Quartet was a major cultural fixture in southeastern Michigan. It gave four free concerts a year at Pease Auditorium, a hall that is smaller than, but similar to Ann Arbor's Hill Auditorium, and performed hundreds of educational outreach programs. The group moved to Missouri in 2000, to become faculty members and quartet-in-residence at the University of Missouri-St. Louis, but it has returned to Michigan for concerts occasionally in the years since.
The Arianna Quartet formed in 1992, quickly garnering national attention by winning the grand prize in the 1994 Fischoff Chamber Music Competition and First Prize in both the Coleman and Carmel Chamber Music competitions. They were also laureates in the 1999 Bordeaux International String Quartet Competition.
The group has appeared throughout North America, Europe and Asia, including critically acclaimed debuts at Orchestra Hall in Chicago and Tokyo's Suntory Hall, and has been heard on live nationally broadcast performances in Osaka, Japan, on Canada's CBC radio, several times as part of Chicago's prestigious Dame Myra Hess Series, and on National Public Radio's "Performance Today" program. Highlights for 2011 include concert tours in Brazil, South Africa and Canada.
Another highlight of 2011 is the Arianna's release of the Beethoven Op. 18 string quartets on the Centaur Records label, which has contracted with them for complete Beethoven, Bartók and Janáček quartets as well as Mozart's "Haydn" quartets.
But Beethoven comes to Ypsilanti free and up close this week, right to a theater near you. Remember to thank Friends of Chamber Music at Pease on your way out, and on theirs.
Listen to the Arianna String Quartet performing Beethoven Quartet in B-flat Major, Op. 18, Allegro con brio (MP3). Doors at Pease open at 1:30 pm Sunday. Pease Auditorium is located on College Place at Cross St. on the Eastern Michigan University campus in Ypsilanti. Parking is available both adjacent to the auditorium and on the corner of College Place and Cross Street.
Susan Isaacs Nisbett is a free-lance writer who covers classical music and dance for AnnArbor.com.