Posted on
Sun, Apr 28, 2013 : 8:56 a.m.
A2SO leader Arie Lipsky moving to Ann Arbor, adding prestigious new post
By Susan Isaacs Nisbett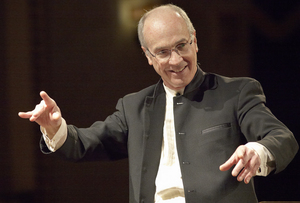 courtesy of the Ann Arbor Symphony Orchestra
It's no secret that
Arie Lipsky
, music director of the
Ann Arbor Symphony
since 2000, is an esteemed—and popular—figure here. Now comes confirmation of the esteem in which he's held in his native Israel, and of his popularity with music lovers there.
Saturday evening, the last A2SO 2012-2013 mainstage concert opened with the announcement of Lipsky's appointment as principal guest conductor with the Haifa Symphony Orchestra. He has conducted there on a regular basis since 1997.
Lipsky considers the Haifa Symphony his first "hometown" orchestra, but admirers of Lipsky's craft need not fret that he's leaving Ann Arbor any time soon. On the contrary, incoming A2SO Board President J. Robert Gates also announced that as of this summer, Lipsky and his wife Rachel and daughter Inbal will make Ann Arbor their home.
Since his appointment here as music director, Lipsky has continued to commute here from Buffalo, N.Y., where he had been principal cello with the Buffalo Symphony Orchestra and later its resident conductor.
In addition to his current position with the A2SO (his current contract has four more years), he is also music director of the Ashland (Ohio) Symphony and chair of the chamber music program at the Chautauqua Institution School of Music. He will continue in those posts in addition to conducting two concerts a year (one operatic, one symphonic) in Haifa. He will also maintain his full schedule of concerts with the A2SO, having arranged his dates in Haifa (December and May) to avoid any conflicts.
In fact, said A2SO Executive Director Mary Steffek Blaske in a phone call Friday, symphony fans can plan on seeing a lot more of Lipsky, and not just around town at Whole Foods or the Farmers Market. "I think it means that he's going to be in our schools even more, in our classrooms and in our senior centers," Blaske said. "On behalf of the board and the orchestra, we couldn't be more pleased."
Lipsky's tenure here has included a strong education and outreach component. He began a Family Concert Series, started the Side-by-Side program with local schools and doubled the number of Youth Concerts. The orchestra's education programs now serve more than 50,000 youngsters in five counties.
Lipsky is thrilled, he said in an A2SO press release, to be making his move to Ann Arbor.
"In the space of a dozen years," he said, "Ann Arbor has given me a sense of belonging and has inspired me. I feel like a part of the family, and the members of the Ann Arbor Symphony Orchestra and community have made it so. I love Ann Arbor's people, culture, and of course, the music. I look forward to visiting more schools and community centers. My family and I look forward to making Ann Arbor our new hometown."
At the same time," he said, "it is an honor and a privilege to conduct the Haifa Symphony Orchestra, where my first love of music was cultivated. I have been a member of the orchestra, performed as a soloist many times, and have conducted operas and symphonic concerts. It is special to come full circle and become its principal guest conductor."